Welcome to the inanely titled Top Ten Theatrically Released Films that Should have went Directly to DVD. The list of nonsense from the nonsense reviewer of Direct to DVD films. In this we will take a look at some films that probably should have tried to improve their profits by avoiding theater, advertising, and various other charges for the straight to video market along with films studios should have dumped , entirely (Yes, that has happened before: Edison Force starring Morgan Freeman is one example).
But enough exposition. Let's get to the honorable mention.
The Darkest Hour
This movie came out on Christmas day, meaning enough exposure to determine if it honestly belongs on the list (no matter how much I feel it belongs on the list). This film seems to exist solely because someone playing around with CGI technology found a "really cool" way to make things "explode" into ash. A bonus since that allows for a PG-13 rating. Consider this a mini-review in a end-year list, but The Darkest Hour should have never seen the darkest of theaters. Why is it mentioned? Because I wanted to and it's my article. And now, the actual list.
10. The Human Centipede 2


In a year with direct to DVD sequels to Hellraiser, Children of the Corn, and Hostel, The Human Centipede 2 could have still had it's controversy without the need to be plastered on large theater screens but instead Director Tom Six worked to get the film released to UK theaters, only to discover that no one wanted to see it. The film bombed and became an internet joke for the most part as it slunk to where it should have started, the DVD and VOD market. A perfectly horrible way to start this glorified countdown.
9. The Dilemma


We started with the end of the year, so let's now jump back to the beginning. Do you know what the new year needed? A forced comedic idea with the slowly fading star of Vince Vaughn and the perptually sideways moving Kevin James. Vaughn discovers that James's wife is cheating on him and the hilarity comes from him trying to decide whether or not he should tell his best friend about the infidelity. Obviously a great place to find comedy, the movie is a dry run of unfunny and while it was far from a complete failure in theaters (despite not making back its budget), was a Top Ten Rental at Redbox this year which points to possible Direct to DVD success for a budgeted down version (At least in the list maker's mind).
Oh, and at the risk of jamming too many images together, here's how the film would go in real life:

8. I Don't Know How She Does It.


A completely outdated idea somehow escaping to theaters on the back of Sarah Jessica Parker squeezing the rock that is Sex in the City for every last drop of relevancy. In it she plays a mother who also works and blah blah blah but still does well because of love and stuff. Unsurprisingly, the Hallmark level plot wasn't much of a draw and the film flopped, not even reaching double digits in the US Market. Hindsight will always be 20-20, but it seems odd how anyone could see this being box office success.
7. Dream House


This thing was simply dropped in theaters to fail (most likely due to the large budget) , which garnered it more attention than it deserved. The film turned out so badly the director wanted his name off it, which makes me miss the days of Alan Smithee. Large budget or not, if you want rid of it, shove it in the straight to video market and hope to make some money back with rentals brought on from star power instead of allowing the majority of critics to crush any chance of people wanting to see it.
6. Bucky Larson: Born to be a Star 



You don't shove Nick Swardson in a starring role for an original character with no fanbase and put it into theaters expecting gold. This thing was tragic from the start and showed how mature Swardson was when he went on the offensive, blaming critics hating his easy to hate film for others hating this film deserving of hate. Hate. Seriously, though. It's horrible and probably shouldn't have went direct-to-dvd as much as direct to the fiery pits of hades.
5. Shark Night 3D


From the Director of Snakes on a Plane comes a film that shows the director's only chance of making a good stupid killer animal movie is to hire Samuel L Jackson and let him do whatever he wants. You would think they could save money with excessive stock footage usage like most shark films but this thing still failed to return production budget sending a message that the 3-D gimmick was not enough to save poorly put together films. Especially one possessing argueably the worst plot twists in the year.
4. Dylan Dog: Dead of Night



A popular graphic novel in Italy gets a theatrical release in America on the same weekend Fast Five shows up. If you were making dinner, this would be a recipe for disaster. Unsurprisingly for Dylan Dog, their food got burned with bad reviews and ignored by movie goers. With little to no fanbase in the states, it flopped leaving me to wonder what would have hurt with a straight to video release to save some spending and ensure some cash.
3. Hoodwinked Too! Hood vs. Evil


Still unsure how this thing even exists, but Hoodwinked 2 began production back in 2008 and soon found residence in its own private Development Hell. After three years of pushing back dates, having it's Burger King tie-in toys released in 2010, and a lawsuit between Kanbar Studios and The Weinstein Company, the film escaped to theaters the same week as Dylan Dog: Dead of Night, which in turn means Fast Five. Not saying that kids would rather watch Vin Diesel driving a car fast instead of an animated film consisting of notable fairy tale characters using outdated jokes but…you know what, nevermind. I'm 90% sure the only reason this thing found theaters was because of the lawsuit and time invested. All things considered, like the original film's performance, this should've had direct to DVD wrote all over it.
2. Atlas Shrugged Part 1 (Limited Release)



Oh, Atlas Shrugged. A classic in literature from Ayn Rand on finally brought to the big screen by a big fan with a big bank account and a big plan. With a limited release that garnered $1.7 million in it's opening weekend despite opening in only 299 theaters, Atlas Shrugged seemed to be heading towards success and expansion. However, the film was made with a $10 million production budget also had $10 million in various other expenses. The $20 million movie ended up with slightly over 4 million dollars and now has to hope for an extemely sucessful DVD release for profit. Instead of going for a grass roots approach, Atlas Shrugged should've most likely shrugged off a theaterical release (which would cut down on other expenses) for the direct to DVD market. Guess that's what they get for being self-indulgent.
Oh. Just make sure to double check the back-of-DVD information so that your story, which is against self-sacrifice says this: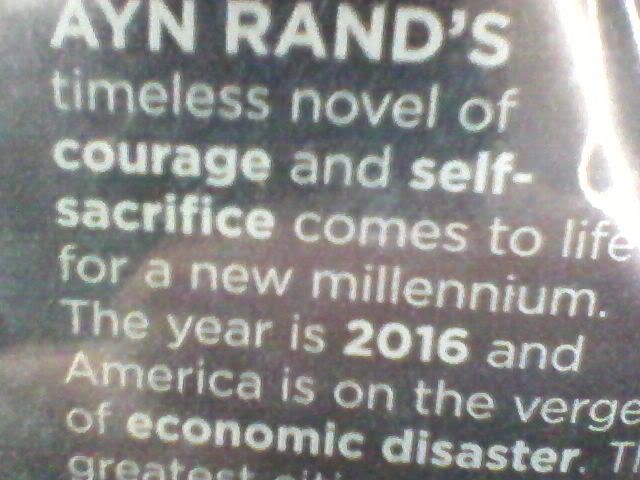 And now our NUMBER ONE…
…
…
Okay, enough tension built.
1. Creature


Did you hear a loud noise this year but never figure out what it was? It may have been Creature hitting theaters and managing to explode and implode at the same time. Released nationwide to 1,507 theaters, the movie scrounged up only $327,000, making it the fifth lowest grossing opening for a nationwide release. The fun doesn't stop there, though, as it was also the second-worst in terms of per location average (slightly over $66 a theater over three days). In all, this was the worst grossing movie ever for over 1500 locations or more.
And the film deserved it. The Bubble Factory assumed with a wide release and word of mouth, they could have a great turn-out from horror fans. Instead, the less-than-stellar film received dreadful opinions from a majority of viewers…including me.
[youtube]http://www.youtube.com/watch?v=o-U9hJ1794c[/youtube]
A theatrical film so bad, that a guy who focuses on Direct to DVD films reviewed it. Is there any wonder the film is #1?
Thank you for reading and I hope you enjoyed. Do you disagree? Did I miss something? Leave a comment or find me on Twitter @SDCain. Most of all…Have a Happy New Year!