It is currently 04.36 on Friday morning Ladies and Gents, and rather than let a good bout of insomnia go to waste, I thought "What the hell! I'll start TTWTWB now. Finishing might be a different matter however, as I may pass out on the off chance that my body decides it needs sleep suddenly. You know, like it would for a normal person…
Anyhow, we've got to have some theme music to get us off to a bright start totally unirritated by a lack of sleep, so without further ado, from last week's Dancing on Ice here is Pixie Lott's cover of 'Use Somebody' by Kings of Leon, as accompanied by Torvil and Dean.
[youtube]http://www.youtube.com/watch?v=l205pwIzysc[/youtube]
So then, with the formalities (and whining) out of the way (although expect more whining before the end…just a warning), let's  get down to business with a little feature I like to call…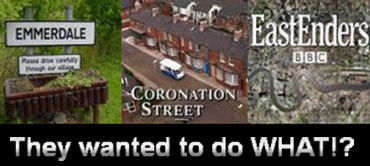 What with it being the 25th anniversary of Eastenders and all that, it seems only fair that I jump (too tired to jump really) on the bandwagon and talk about the original plans for one of the moments that defined Albert Square, and arguably the most famous (or infamous perhaps?) moment to come out of the soap, that little series of events known affectionately as 'Sharongate'.
Just before we continue on that I would like to display my utter contempt for the adding of '-gate' as a suffix for scandalous events. 'Watergate' was called 'Watergate' because of the proximity of the scandal to the 'Watergate' hotel, so adding '-gate' to every other tabload news story not only makes no sense grammatically, it trivalises one of the biggest events in modern history. Plus technically, if they wanted to be accurate, surely they should be adding 'Hotel' to the end of these stories? Anyhow, that's by the by…
The storyline in question featured a number of key 'Enders personnel, namely;
Sharon Mitchell nee Watts, who was married to…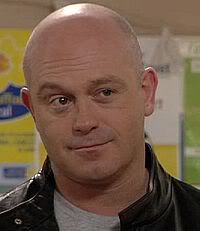 …Grant Mitchell, but had an affair with his brother…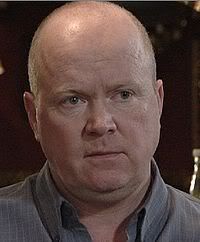 …Phil Mitchell, and confessed all of this to

…Michelle Fowler (who, incidentally had a daughter with Sharon's Father Den), whilst recording the whole thing on an audio tape (old school, it would be on an Mp3 now) as I'm sure we have all done some time in our life, given that Soap Opera reflects real life so well…
Anyhoo, Sharon in a moment of madness, left said audio cassette in the car to be found by husband Grant, letting the proverbial adulterous cat out of the bag of infidelity. As critical and daft as I am being about the series of events, the now legendary scene where a furious and distraught Grant interrupted Phil and Cathy's wedding party in the Queen Vic Pub and played the tape for all to hear was immaculately done, and is an excellent example of what Soap can do when the right amount of thought is put in. That scene was almost Hitchcock-like in it's silence, only punctuated by the tape playing as the reality sank in for everybody concerned, without any of the over exaggerated histrionics that is often resorted to when trying to make an impactful scene memorable.
This restraint was not continued in the aftermath though as Grant pulverised his 'Bruv' Phil, leaving him a bloody, beaten mess in the mechanics pit in his own garage, resulting in several storylines, including the introduction of Barbara Windsor as Peggy Mitchell.
So far, so melodramatic and Soapy. So what was the original plan that was ditched?
The whole reveal, and subsequent beating was originally scheduled to take place on a holiday in Scotland, and following Soap Opera law #3325 (Off screen holidays are luxurious, relaxing breaks where nothing goes wrong. On screen holidays must result in something horrific happening. Like Martin and Sonia getting together. That happened in an on screen holiday, and I still bear the resultant optical scars to this day), Grant, instead of merely battering his Brother to within an inch of his life, was going to push Phil off a cliff (The thought of which will delight Eoin. He REALLY dislikes Phil), because that's what all rational people do when they've been emotionally betrayed don't they? They attempt to murder the sibling concerned. No discussion, no analysis of where the relationships went wrong. Just elaborate homicide.
So then, Dear Soap Fan, why did this not come to fruition? Because in a somewhat shockingly sensible decision, the Producers decided that it was too dramatic and unrealistic for Eastenders, and rewrote it to take place on Albert Square.
Once again, given that Mafia warfare has taken place in Walford since, that sort of restraint and good judgement was all too fleeting. As for the cliff? The idea eventually got rehashed when Janine Butcher murdered Barry Evans after their marriage in Scotland. Clearly Lizzie Borden is a greater influence on Writers and Producers than Romulus and Remus.
Dang we're getting our obscure reference money's worth this week. Must be the exhaustion (it's now 05.28).
Now normally I would perform a very poorly executed segue into the highlights and lowlights for the week, but today we have a bit extra for you, as I wish to air a couple of grievances.
Our first is one I have aluded to in past columns, and that is the mistreatment M*A*S*H receives on Comedy Central Extra in the UK. Now I know I should be grateful that a comedy, no matter how timeless or classic, from the 1970s and 80s is being aired regularly, but the fact that the show is given the timeslots makes me question further the bizarre things Comedy Central does with it. For one, it has been bumped around in the schedule a lot recently. It went from a 15.00 slot to a 17.00 slot, and then moved again in short order to be shown in two hour blocks of four episodes from 18.00-20.00. My initial reaction to this was one of excitement, as I  thought the move and the extended time given might be for the purpose of airing classic and indeed seminal episodes, some of which are feature length. My hopes were dashed when once again the series looped from the penultimate episode of the last series right back to the first series. The first omission was the pilot episode, which is no massive loss, as it's just an average quality episode (which is still ranking pretty high in comparison to other shows), but the next few were glaring. The series defining episode 'Sometimes you Hear the Bullet' is missing. 'Abyssinia Henry' an episode which contains moments which have entered television folklore and storyline twists vital to understanding the episodes that follow isn't there. Not only that, but the hour long episode 'Welcome to Korea' which introduces BJ as Trapper's replacement that follows directly on from 'Abyssinia Henry' is skipped. In the space of one ad break we see two HUGE changes to the series without any explanation because of the omission of these episodes. The most striking episode left out though is of course the legendary last ever episode 'Goodbye, Farewell and Amen' which remains to this day, one of the finest pieces of television ever made. I've emailed Comedy Central about this, just to see what the official party line for these omissions is, but so far no word. When I find out, you will too!
My second concerns a recent storyline and character departure in long running medical drama Casualty. Recently, we had tragedy as Adam and Jessica's baby son died following a terrible accident on the day of their wedding (Soap rule #3829 No Wedding Day can go smoothly). Following a superbly executed episode which switched between real life and the subconcious dreams of the comatose Jessica, all fans of the show expected to see the popular couple experience difficulty as they came to terms with the loss, but to, with time, overcome it in one way or another. Instead, Jessica just left, taking her two kids from her previous marriage with her to New York with a long lost friend, leaving Adam to be consoled by his friends and colleagues. I would have had no problem with this shocking twist if Jessica had been portrayed as selfish and unreasonable in the situation, but rather the storyline was pitched in such a way that we should feel sorry for her. Now don't get me wrong, I felt for her character having lost her baby, but then so had Adam, who also lost his wife and two step children in very short order afterwards, and she just jets off because things are a bit tough! I was fuming with this, and not for the right reasons, because I'm pretty sure we were supposed to feel sorry for Jessica and understand the situation. I'm sorry, but BULL! I actually, for the first time in a long time, felt indignation towards the writers, as I don't feel they gave the audience what they wanted, nor did they give the audience's reaction to this enough thought. The plot ending was badly judged and insulting to the viewer to think that they would accept what was written without giving sufficient reason for any emotional investment in the development. Just a very shoddy job at the end of the day.
But now we have ranted about recent TV, let's dive headlong into what the week ahead has to hold for us…
And what a week it is as we kick off our highlights with three absolute gems from the US returning to the schedules. Firstly, Law and Order returns and is an example of some of the fantastic programming Five has to offer. Eclipsing the UK version (forcing Five to bill this as Law and Order: US) and demonstrating exactly how a slick crime drama should be executed (no pun intended). It took a little while to get used to the show without Jerry Orbach in it's last series in the UK, but Dennis Farina's silky, designer suited persona was so well portrayed and pulled off that it was impossible not to root for him in the same way you did for Orbach. On the Order side of things, Sam Waterston is always fantastic at delivering understated, reserved performances that make for gripping television. Another stellar part of Five's US Crime based lineup returns this week also, with the second series of The Mentalist. It's rare to find a show that can switch between light hearted humour and dark, at times grisly subject matter as rapidly and successfully as this series does. What is more impressive is that it never seems forced. Simon Baker's tremendous range as a character actor, playful one minute, brooding and deliberate (as seen all the moreso in TTWTWB favourite The Guardian) makes the transitions seamless. Will they catch 'Red John', the serial killer who murdered Patrick Jane's (Baker) wife and daughter? I suspect not in this series, as it would be akin to when Twin Peaks revealed who killed Laura Palmer (BOB for anyone who missed that), "killing the goose that laid the golden egg" to quote David Lynch, but expect there to be a few near misses that will keep you rapt as well as other crimes which will shock and enthrall. Our third returnee from the US is the frankly mind-blowingly good legal drama, Damages. In fact, calling it just a legal drama doesn't do the show justice at all. You have to watch every minute as everything is significant, and it is one of those shows that will leave you with no clue as to what will happen at the conclusion until you see it for yourself. Expect shocking twists and frighteningly real, dark character development. If you haven't watched the previous two series, then read up on it, because this is one show you do not want to miss out on.
Another US import is our next highlight, and although I won't put it in the same league of glowing praise as the above mentioned, Two and Half Men returns and is sure to carry laughs with it. It's lost some of it's luster over time (and soon it's going to have to be 'Three Men' surely, as Jake grows up) and can fall into formulaic comedy, but in the last couple of series has shown enough character development to demonstrate that it can still produce. My one hope though is that they make the character of Alan a little more likeable, as in the last series especially, he became downright annoying, which makes him a lot harder to pitch jokes around.
Our final highlight is one that was surely brought about by the insane popularity of Alexandr Orlov of Compare the Meerkat fame as Banded Brothers- The Mongoose Mob debuts. Meerkat Manor pretty much has this market (if you can call Meerkat documentaries a 'market') sewn up, but this should serve to be both cute and interesting, and a little competition never hurt anybody.
As stunning as the lineup of new shows this week is however, we also have three really bad apples which really spoil things in the comedy stakes. First off we have the inexplicable (I know I use that word a lot, but the continuation of some of these shows really is) return of The War at Home. Unfunny, hackneyed and cliched trash, it is in the same league as The Green Green Grass and the shell of it's former self that My Family has become. The BBC keeps on it's bad comedy roll too, as Scallywagga debuts on BBC3. The words 'debuts on BBC3' alone are terrifying as it is given their shocking quality of late, but this is potentially a new low, as another 'edgy, satirical' young comedy threatens to turn into a combination of Vicky Pollard and whatever that awful, humourless teenager character Catherine Tate plays is called. Our final lowlight though is one that really sends chills down my spine. Sport Relief does tremendous work to raise money for charity, and that must be commended. The prospect however of another series of Let's Dance for Sport Relief is frankly vomit inducing. As highlighted by Robert Webb's version of Flashdance ;ast time out, this is a show that takes what could be funny and turns it into something which crosses the line into creepy, skin crawlingly bad, overracted and horrifically forced performances. I honestly think I'd rather spend my time conversing with Alan Titchmarsh than watch this. It's a good contender for worst show of the year already.
And that's me for the week! No column next week for personal reasons (Doctor;s appointment, Physio, you don't need boring with details), so I'll see you in a couple! In the meantime, send any feedback to chris@multimediamouth.com or in the comments section below and remember to always stay safe!