Come forth intrepid readers, and warm yourselves around the glowing campfire that is TTWTWB! Ok, I admit that opening was a bit of a stretch, even for me, but it's not easy to come up with original material after this long! As always, we kick off with our theme song which should really now be named 'The song Holby City used in a montage this week'. This week it's Kasabian's 'Underdog'.
[youtube]http://www.youtube.com/watch?v=_2Pl89r_1vw[/youtube]
So the TV news this week has been dominated by the usual string of tabloid driven controversies that abound around the start of The X Factor but this year has produced some interesting new angles.
See that thing in the picture? See how evil it looks? Hell Spawn surely!? That, I am reliably informed by a Google image search is what Autotune equipment looks like. The electronic vocal adjustments, made popular by Cher, Akon and latterly Justin Bieber caused much overreaction after it's use on the talent show. Now I have to say that while I don't see how it's such a newsworthy issue, I also do not understand the reasoning on using it on a show that depends on the extremes in good and bad in the contestants and the true success stories are the 'rough diamonds' that have a promising audition and grow as a performer over the course of the show.
It's usage was pretty damn obvious and stood out at the very first decent vocal, and given the truisms I listed above it seemed odd that it would be applied on the live performance, but then the announcement was made that it was added in post-production that really confused me. Part of the appeal as a viewer is the ability to listen to the auditionees and pick your favourites early on. Take for example last season's Stacy Solomon (sorry, no embeddable videos available but click for the clip). The immediate appeal was the nice, down to earth girl with a very natural voice. Slap autotune all over that and you lose the unique aspect that makes you sit up and take notice. I don't see it as some big scandal as some have expressed it, it just doesn't make a lot of sense.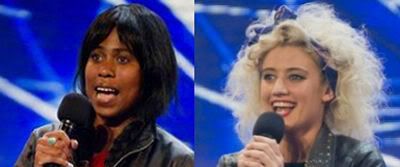 The other big stories out of the first week have been surrounding 2 of the people we saw auditioning. On the right in that picture is the girl who has been dubbed by the press as a 'Madonna lookalike'. Katie Waissel had a shaky audition but showed a tonne of personality and had a decent enough vocal and was put through to the next round. This week however it was revealed she may have already signed a record contract in the US, thus voiding her position as a contestant on X Factor. If she can't continue I think this season will be a lot poorer without her. You need that kind of unique character to make a show memorable and fun.
On the left though is Shirlena Johnson who made the most headlines. After an attention grabbing, if very unusual audition in which she forgot the words to Duffy's 'Mercy' and so improvised with the little she could remember she got put through much to the bemusement of Simon Cowell. However, in a double whammy that the Red Tops must have sacrificed several goats to their Paparazzi Gods to achieve, not only was it revealed that she had lied about her age on an application for Miss Great Britain, but it came out that following recommendations from a social worker, Johnson would be removed from the competition over concerns for her mental health.
This has brought about a cavalcade of issues and debates over whether this is discrimination or a move made for her own good, and it's one that as someone who has suffered with mental health issues, I am not going to touch with a 20 foot pole because nobody but those close to the situation can know the complexities of. The only statement I'll make is that the newspapers that claim to know better than those involved in the decision are more disgusting than any alleged discrimination.
Spectacular start from the controversy perspective though, normally we get one person ejected for a criminal record at some stage, but 3 big issues in week one? Impressive! I wonder what this week will bring…
Ok…
WORST. SEGUE. EVER!
We kick off the week's highlights with the enticingly titled Panda Week with Nigel Marven. I could go on a long spiel about how great this will be, but instead…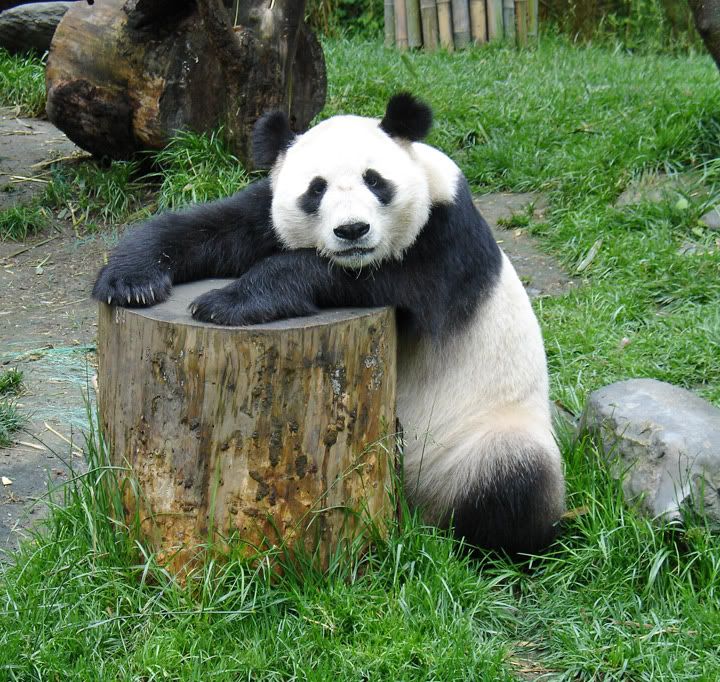 and

also

Seriously, it's Pandas. Just watch it.

Our second highlight is the 54th season of kids TV staple, Blue Peter. A lot of people sneer at this show because of it's slightly twee traditional leanings, but it's still undoubtedly the best kids magazine show around and guaranteed safe viewing providing parental peace of mind.
But that is all that the schedulers have seen fit to give us in the way of good shows starting this week, they have however been more generous with the tripe…
In this column, I do my very best when it comes to the previews to keep soley focused on the terrestrial channels and their digital sisters. Very occasionally though, a show will come up that is so good (Lie to Me, Stargate: Universe) or bad that I just can't ignore it. This week we have a VERY bad entry from Sky One.
The nature of the TV columnist is one of using hyperbole and exaggeration for effect. When in the past I've implied I would rather take a piece of heavy duty masonry equipment to my genitals than watch a show, as I'm sure you are all aware (or at least hope you are) I have no intention of actually taking that step. It's simply to stress the lack of desire I have to watch a show. With that in mind then, I would like to inform you all that the following rant statement is totally without exaggeration or hyperbole and could not be more serious in it's comments.
The Middle, the new comedy starting this weekend that has been heavily plugged by Sky right across both it's own networks and those of affiliates, might be the single worst comedy ever. I have never, ever before in my 25 short years on this planet, been SO repulsed by a trailer for a show that I actually have to change the channel when it comes on. The preview clips are the same, the characters (two of whom are played by well known and very able comedy actors from Everybody Loves Raymond and Scrubs respectively) are so utterly repugnant and the 'comedy' so puerile and verging on perverse that this is the first time I will actively reccommend people to watch something else, ANYTHING else opposite this show. I've seen adverts for Richard Littlejohn's show on Sky News that have angered me less, and I feel Richard Littlejohn is utterly contemptable. I actually feel a little ill just writing about it, so I'm going to move on now, but I'm pretty sure I can give away my Worst Show of the Year award already.
Following that, it's quite tough to muster up enough disappointment or (made up word alert) anti-enthusiasm to cover the rest of the lowlights, but I shall endeavour to do so. Our second lowlight is the returning teatime quiz, Pointless. Really, a title for a show has never been so apt. It's not so much bad as it is boring and redundant, as well as being a total waste of Alexander Armstrong's abilities.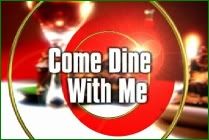 Next up we have the inexplicably popular Come Dine With Me. Series of this show seem to come around every few weeks, and I've bitched and moaned about this enough in the past for people to know my stance. It wouldn't be so bad if they didn't take the Big Brother route to ratings by getting 'quirky' (read: annoying) contestants to appear on it, but even without that in the equation, the format is so lazy it's quite insulting to the viewer.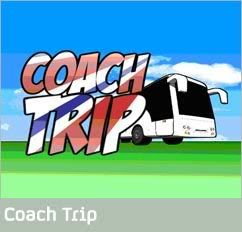 Our penultimate  lowlight is Coach Trip which hands down wins the award for laziest reality show ever. Unfortunately I was unable to find any clips of Harry Hill tearing it to shreds on TV Burp, but hopefully that will be back for a new series in time to make some more! If you haven't seen Coach Trip, it's exactly that. A bunch of people on a trip in a coach around the UK and Europe. The usual reality format of picking annoying people is followed so as to create conflict and people get voted off at each location. Whoop de flippin' do.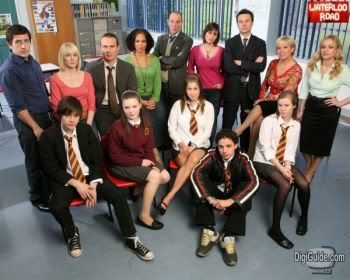 And finally for the week we have Waterloo Road. A plodding, predictable melodrama from the BBC conveyor belt with wafer thin plot premises and generally poor acting. Worst of all, it verges on the awkward, hybrid style that comes about when UK Producers try to pull off the US style of slick pacing which never works. Amanda Burton is in this new series too, so look for lots of closeups of her face while her eyes flick around the room. I'm sure that expression is supposed to denote intensity and deep thinking. It doesn't.
To close I would like to take a sombre tone to send the condolences both of myself and everyone here at MultiMediaMouth to the friends and family of Skandor Akbar, Lance Cade, Ted Allen, Tony Bourne and Luna Vachon who have all sadly passed in this last month, with Bourne and Luna both dying on Friday 27th August. Times like this make it very difficult to be a fan of professional wrestling, and all will be sadly missed.
Send any feedback to chris@multimediamouth.com or in the comments below, and remember to always stay safe.