Welcome Ladies and Gents to the last TTWTWB of the year (next week will bring two special editions!) ! To kick us off this week, our theme is from last week's Without a Trace (I'm a week behind, thank goodness for Sky+). It is The Cinematic Orchestra with 'Ma Fleur'.
[youtube]http://www.youtube.com/watch?v=R70HTD96bys[/youtube]
Well I promised you a new feature this week, and sho' nuff, here it is!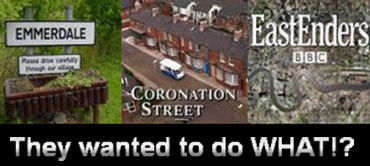 Each week we will take a peek into the dark, scary place that is a soap writer's mind, and see just what they had planned before someone with something close to an iota of sense, or just dumb luck/misfortune stopped them from scarring us forever with their sick imaginations.
My initial thought was to ease us all in gently so as to ease the transition, but then I realised I didn't want to let anybody think I was being a tad melodramatic with my intro there, so brace yourself, because this ain't pretty!
This particular abomination involved the character Dennis Rickman in Eastenders.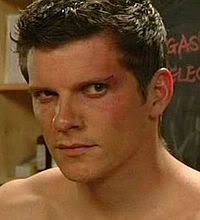 Remember him?
Dennis was introduced as the illegitimate son of 'Dirty' Den Watts (and indeed, announced that his Dad had in fact magically come back to life! Ok, so there wasn't actually any magic involved, but the Eastenders writing was descending into the virtual Mobster warfare farce that would plague Albert Square for a while, so it's not much of a stretch of fancy). Marketed as the official Eastenders soap hunk, he fell into a series of typically overdramatic storylines, sleeping with half the female population of East London and killing gangsters (as you do) before finally settling down and marrying her…
Sorry…

HER! Sharon Mitchell nee Watts. What's that you say? Her surname was Watts? "But Chris!" I hear you cry, "Dennis' Father was also called 'Watts'!" That's because, like all soap writers, the Eastenders lot love quasi-incestual relationships too! Dennis Rickman married his adoptive Sister (and they didn't state the fact she was adopted NEARLY enough when they were together on screen either).
Before Miss Piggy left Kermit for Dennis though, the writers had something terrible in store. Dennis, the young man you saw previously, was due to sleep with…
PEGGY MITCHELL! Yes, I'm serious. That's what they had planned. Age gaps and terrible mental images aside, that would have meant Dennis would have slept with the Mother of two of Sharon's exes, Phil and Grant. I'm not even going to attempt to figure out where they would have gone from there, the results are all too vile to consider. Needless to say, any soap parody from that point on would have been rendered futile, as no comedic or satirical effort would have provided a more over the top, cliched and just plain ugly plot than the one that was nearly on offer here. So what was it that prevented this terrible event? A bright flash of genius from a Producer? A sudden pang of realisation from the writers themselves? Of course not. Barbara Windsor was involved in a car accident, which meant she needed some time off, which led to a changing of filming schedules, which caused the storyline to be shelved and eventually ditched.
In the end, Dennis was killed, a victim of the near-prohibition era Mafiosa that were roaming the East End so commonly earlier this decade. A fate, I'm sure you'll agreed, that is a lot kinder than being written into bed with Mrs Mitchell.
When it comes to TV in this past week, it's pretty difficult to offer my usual commentaries as the schedule has been all Christmassed up the wazoo, but this is a bit of a cool period as regards TV anyhow, with the vaccuum of good shows following the conclusion of Strictly, X Factor and the various other major series that have finished recently.
One series finishing that I MUST highlight for you though, is Merlin. I have often sung the praises of this series, and bemoaned the lack of showcasing it receives, with the awful Robin Hood given priority by the BBC, but I really feel that the Beeb simply cannot continue to simply to throw it in the schedule and forget about it after the incredible standards that have recently been reached. I wrote recently about the heartwrenching scenes in which Merlin (Colin Morgan) held the cursed Druid girl as she died, and the superb dramatic climax achieved when Bradley' James Arthur confronted his Father (Anthony Head) about the truth behind his birth and the death of his Mother. This trend I am delighted to say continued with a stellar final two episodes of the series. Merlin as a show has been criticised at times for ignoring the Arthurian Legends and the Mabinogion, but this series has developed Morgana's turn to dark magic, the budding relationship between Arthur and Guinevere and Merlin's continued growth. Although the light comic touch of earlier episodes was still present, the final two episodes really amped up the tension as Morgana unwittingly betrayed Camelot, leading to Merlin making a deal with the last dragon and setting him free to unleash his vengeance on Uther and Camelot, before Merlin discovered his lineage as a Dragon Lord and subdued him saving the day. To anyone who isn't aware of the series or it's premise, that will sound a bit daunting and generally a bunch of gobbledygook, but trust me, these latest episodes have transformed it from a pleasing Saturday evening distraction into absolutely must watch drama.
Well I'm very happy to say we've been spared from the usual holiday horrors this year, as quite amazingly, it's a case of all highlights this week with not one serious black mark!
We kick off our highlights for the next week with a dramatic and cultural fervour, as David Tennant, fresh from his Doctor Who stint, brings his stage production of Hamlet to the television. Shakespeare so rarely gets a proper outing, and Tennant is a superb actor, so this is a real TV event. I reccommend this to everybody as an absolute can't miss prospect.
Up next is a slightly less cultural offering, but nonetheless just as fulfilling extravaganza with Harry Hill's TV Burp Review of the Year. Expect the usual madness, with a few surprises thrown in, and maybe even a cameo from the Knitted Character, the Shark and the Jelly. But the problem here is…I like the usual madness, and I like the few surprises…but which is better? There's only one way to find out…
Celebrity Mastermind is our third highlight for the coming week. I'm really not a fan of John Humphries as a host, he's made the regular Mastermind series unwatchable with his condescending, smarmy attitude, but on the Celebrity edition (and trust me, this is likely the only time I'm going to favour something with 'Celebrity' in the title), the guests are well versed in TV and able to give as good as they get and stick up for their specialist subjects. Plus there is always the siadenfraude factor given by the possibility of seeing a celebrity strike out.
We finish the highlights with a double dose of sitcom. Outnumbered, soon to start it's last series before sadly being axed offers improvisational genius and is another 'can't miss' show. Also starting on Channel 4 is another attempt to fill the gap left by Friends as According to Jim debuts. Starring Jim Belushi (my long lost Brother. Trust me the likeness between the Belushis and I is frightening), this is a relatively standard family based comedy, but should provide enough entertainment to make a popular schedule filler.
And that's me for the week, and indeed the year as far as TTWTWB. Next week we have our year end review and a preview of the television of 2010. Send any feedback to chris@multimediamouth.com or leave a message in the comments section below. Keep your eyes peeled for some special 2010 previews from Eoin in the coming week as well as an exciting new lifestyle feature, and remember to always stay safe. PLAY ME OFF KEYBOARD CAT!!