Happy Friday everyone, and welcome to another TTWTWB, the first with our shiny new site update here at MultiMediaMouth! As always we kick things off with our theme for the week, but alas, no show provided any inspiration as the World Cup and Wimbledon bring chaos to the schedules, so I'll pick a favourite of mine, from the lovely Amanda Palmer, 'Ampersand'.
[youtube]http://www.youtube.com/watch?v=MJOMSkn1Wwg[/youtube]
I must confess that my intention today was to have a review of Lennon Naked with personal favourite Christopher Ecclestone, but one thing and another has come up, and I haven't gotten to watch it yet. Never fear, because Eoin and Danielle with are currently working on their reviews of the biopic so we'll get a mich better analysis of it than I could ever present. I will have a review of my own next week in this column though, as it's something I've been looking forward to seeing since it was announced.
So rather than work against the current sport extravaganza and try and eke out something, I thought I would discuss what really was a huge TV event that came out of nowhere. I speak, of course, about the record breaking Wimbledon 1st round match between John Isner and Nicholas Mahut. Words cannot fully sum up how incredible this match was, running 11 hours 5 minutes, with a final set that ran longer than any other complete match in history. Virtually every record in Tennis was shattered by these two guys who achieved something truly magnificent with the epic 70-68 final set.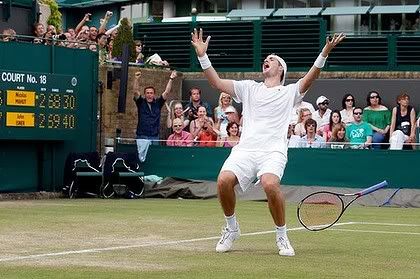 A slight disappointment for me has been the nature of the coverage however, which seems determined to paint the two guys as utter no hopers who nobody has ever heard of. Lest we forget, Isner was 23rd Seed for the tournament and has climbed the world rankings significantly in recent times, and Mahut, although now ranked 149 in the world is a former top 40 player who reached the final of the Queens Club tournament in 2007.
Indeed the BBC coverage in general has been very poor in it's presentation, something which John McEnroe has been quite acerbic about the style of journalism used, and rightfully so. The coverage seems to be presented as 'Tennis for Dummies', or as my Mum put it "The One Show for tennis" with a distinct lack of information about lesser players and an almost Heat magazine style production at times. The first day was a classic example, when an interview with young British player Laura Robson was aired in which they asked her, not about her experience playing on Centre Court for the first time in the Senior draw, but rather about her new pet dogs.
They followed up that 'delight' by covering French Open Ladies Champion Francesca Schiavone in a manner that was frankly insulting. Firstly they spoke about the number 7 seed as though they expected nobody to have heard of her, and then referred to her phone conversation with the Italian President on court at Roland Garros as 'like she was ordering a pizza'. They then further insulted the intelligence of tennis fans watching, by speaking about Nikolai Davydenko as though he were a total unknown, despite the fact he won the end of year Masters last December ahead of Roger Federer, Rafael Nadal and Andy Murray, in London. Add to this the fact much of the highlights were presented by newsreader Celina Hinchcliffe who clearly isn't a big tennis fan as she spoke with no conviction or confidence on any subject.
I understand that as Wimbledon has signficantly larger numbers of casual fans than other tennis tournaments, and as such the BBC needs to cater the coverage differently to Sky Sports or Eurosport, but this year they seem to have done that at the cost of the integrity of the product. Baffling too is their continuing ignorance towards the Doubles draws, especially considering the greater number of British participants which would surely help draw more fans, and would help give the lesser lights from the UK a higher profile at home. All in all I've been left wanting to do this…
Speaking of banging my head against a brick wall, the news came this week that Eastenders is going to have a fire in the Queen Vic. Presumably this will be used as a vehicle to kill off various cast members, as well as introducing a new, HD-ready set. Of course fires and explosions happen so regularly in Soap Opera that they have lost the impact they are supposed to have. No doubt we'll be treated to high-octane melodrama, courtesy of Mr Kirkwood, and likely more terrible acting from Ben Mitchell. Coronation Street seems intent on becoming a Carry On film with the ridiculous sight  of David Platt dragging a radiator he was chained to around the street.
Emmerdale on the other hand continues to tick over with fantastic understated plots and performances. My wish for more Paddy and Marlon interaction, especially with the great reintroduction of Rhona as a regular character has very much been granted. Aaron, Ryan and Jackson, along with Andy also have developed into very rounded 'everyman' characters, and even Viv, Val and Pearl have been mellowed to the point of being normal. Val in particular, has been a very good in her role as Diane's sister, aiding her in her relationship with Charlie.
But anyhow, enough of the past, it's time to look into the future and see what is on offer this coming week!

We kick off our highlights this week with the return of The TV Book Club. After the end of South Bank we're somewhat deprived of cultural offerings with only the polarising Newsnight Review and the excellent Culture Show giving us anything substantial, so the addition of Channel 4's offering is a really nice compliment that, although it may sound very cliche, makes reading and book discussion FUN! The panel headed by Jo Brand is engaging and capable of very intelligent and accessible debate. Really happy to see this again.

Our other highlight this week is the much hyped return of Top Gear. It's tough to say anything new about Top Gear, but it's quality it consistently good and the show is always entertaining. It's difficult to top the epic Bolivian challenge that first aired last December, but one very encouraging point is that the new series has been built as having 'less tomfoolery'. Whereas a lot of terribly reactive sources have basically said "OMGZZ! SRS TOP GEAR!" I take this as a very good thing, as in recent times they have relied too heavily on obviously scripted humour and segments which only serve to highlight the best parts of the show are when the guys get to be themselves and natural, and a departure from that will be very welcome. Most of all, it's a great addition to the Sunday evening schedules which have been very barren of late.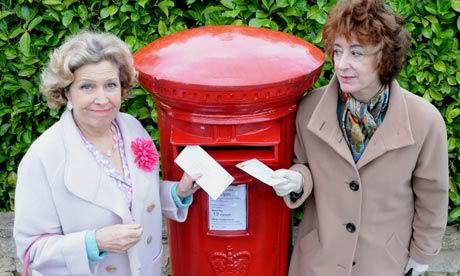 Our single lowlight for the week is one of the biggest television disappointments in recent memory. Ladies of Letters is very much a victim of the ITV effect, which manages to suck the humour and depth out of virtually everything on the channel. How they managed to take a great radio show with two fantastic actresses and make it bland and vapid is beyond me, but somehow they did. No wonder ITV is going down the tubes!
Well that's me for the week, keep your eyes peeled for the review of Lennon Naked from Eoin and Danielle and for another edition of Game Show Garbage as well as One Word Reviews in the Comics section. Send any feedback to chris@multimediamouth or in the comments below and remember to stay safe!