Our theme this week is from the last ever episode (NUUUUUUUUUUUUUUU!!) of Without a Trace. Piers Faccini's 'The Wind that Blows'.
[youtube]http://www.youtube.com/watch?v=ORbgyfvC9is[/youtube]
It was a very well constructed last episode which was due in part to the show's Producers not knowing that the show was going to be axed. As a result of that it didn't collapse into the convention of tying up every little loose end and having it feel saccherine and cliched, which is a rarity in last ever episodes, but also managed to give a sense of closure so there were no major outstanding plots left to frustrate fans of the show. A great job all round.
Look at me, discussing Television from the off! Anybody would think this was a TV column…Anyhow…to business!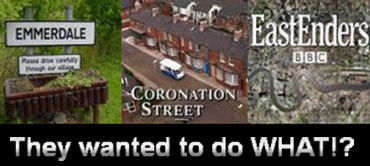 This week we'll be looking at probably the most maligned Soap family of all time, The Ferrerias.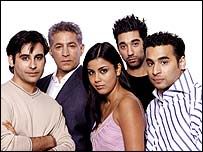 Yes, and that slight shiver you just felt is shared by every single Soap fan in the UK! The Ferrerias were doomed pretty much from the start, as they were greeted with a severe backlash from the Asian community for several reasons. Firstly, the casting of Dalip Tahil as Dan was widely criticised, as he was plucked straight from Bollywood, ignoring the large number of UK based Asian actors who were suitable for the role. Albert Moses in particular was vocal on the subject;
"British Asian actors have been fighting for the last five years to persuade the BBC
to bring an Asian family into EastEnders and when at last it happens it goes to Bollywood.
It is a disgrace and an insult to British Asian actors. This is a terrible thing for the BBC to do.
 It should be ashamed."

On top of that, a large amount of criticism was aimed at the clearly mixed heritage of the actors cast. During their run on the show, a survey was run asking young Asian professionals in London what they thought about the family. The feedback was largely negative, and produced this memorable quote;
"Just how many shades of brown can there be in one family?
You can't put them in any context. They have no background"

And just to add another strike against the Ferrerias, there was even criticism from within the BBC itself as Samir Shah, a member of the BBC Board of Directors dubbed the family as an "inauthentic representation" of an Asian family in London and criticised their storylined Goan origin as inaccurate.
The major nail in the coffin for the Ferrerias in Eastenders though was their endless run of horrible storylines, as summed up by Ameet Chana who played Adi;
"I'm not afraid to admit that the Ferreira family have been treated like [****].
We've been made scapegoats, discriminated against. They wouldn't do this
to the Watts or Slater family. [...] The Ferreira family have had bad storylines
and we've taken the blame for it."
Fans of Eastenders will likely remember the bad storylines Chana refers to. From their first show the Father of the family was portrayed as a boorish bully, controlling the rest of the family with emotional blackmail and threats of violence, and was genuinely one of the least liked characters of all time, and not in the good 'soap villain' way. Then there was the hinted at, but never explored gambling addiction of Ash. The most interminable of all of these though was of course the infamous kidney transplant storyline which just seemed to drag on and on and on. This though, was just a parachute used when their original plans couldn't be filmed. Their original plan you see, was to have the family murder Dan, and bury him in a shallow grave.
Just digest that for a moment, a soap opera with an already declining audience due to unpopular characters and a reputation for being too dark and depressing was going to try and win the audience over…by having the grisly murder of a character and the subsequent coverup storyline.
So what stopped them? Well in probably the most unprecedented and infamous soap departure, Dalip Tahil…
WAS DEPORTED! Visa issues came to light, and the actor was ordered back to India as he no longer carried the correct paperwork to work in the UK.
What followed was some 40 or 50 (depending on which Eastenders writer you believe) scripts being hastily rewritten, and the kidney transplant storyline was born. And then proceeded to live for 1000 years causing pain to whoever witnessed it.
To be fair to the Eastenders crew, they have admitted they became overly reliant on the storyline to carry episodes, as other events (Kacey Ainsworth (Little Mo) becoming pregnant and therefore needing maternity leave, Michelle Ryan (Zoe Slater) having a breakdown and Barbara Windsor's car accident (remember what that stopped?!)) forced the rewriting of other major plots, leaving the poor remaining Ferrerias to flounder and take the brunt of the criticism.
In that Soap Opera way though, the writers were not content with just forgetting the 'shallow grave' storyline and rehashed it for the one involving Max and Tania Branning, which was also pretty terrible (He cheats on her. She tries to kill him and in doing so exposes him to his greatest fear: being buried alive. He manages to scrape through and survive, and then is the one who has to apologise. I don't in any way condone infidelity…but seriously! She tried to actually end his life, and he STILL has to apologise? Surely you would just call it even!) but at least gave us this…
[youtube]http://www.youtube.com/watch?v=iOlbvANgs8A[/youtube]
In the end though, in storylines the Ferrerias fell victim to the Mobster warfare that gripped East London a few years ago, and were ordered to leave Albert Square or face some terrible gangster-y wrath.
Which, let's face it, is better than them being all murderers. Albert Square is rivalling Midsomer for the amount of deaths in a small area now.
We'll have more soap horrors next week, but for now we have that whole week to preview!
We'll dive straight into the highlights too, or, should I say, highLIGHT! Singular. We only have one this week, but it's a REALLY good one, as Mad Men returns to BBC4 for it's third series. This show manages to be gritty and earthy without being morbid and to be slick and smooth running without being flippant to it's subject matter, as it portrays the seedy underbelly of the advertising industry in the midst of it's boom in the US in the 1960s. It is superbly written and balances the drama and black comedy perfectly. It also just looks STUNNING. I'm not sure if it's because of the 60s suits and oiled hair, but it's colour, staging and art direction is incredible, and guarantees you daren't take your eyes off it. On top of that, it treats the audience intelligently and leaves you feeling satisfied yet wanting to watch the next episode immediately. The only downside to Mad Men is that it hasn't yet made it's jump to mainstream television and stays hidden away on BBC4.
Next we have three shows I just can't make my mind up on, so we dust off our TV Purgatory section. As always they have potential to be great viewing or an absolute trainwreck. Given that we've already discussed the show at length, we'll address Eastenders: The Greatest Cliffhangers first. Sounds appealing doesn't it? And it very well could be, depending on how they play it. There is a tendancy on shows such as this (particularly with Eastenders and Coronation Street) to take themselves too seriously, and speak about the show as being truly earth shattering, when it is nothing of the sort. If they pitch it right and treat the storylines they discuss properly, with respect but not as anything bigger than primetime melodrama, it will be an entertaining trip down memory lane. If they go over the top? Well we'll be all wanting the kidney transplant storyline back. Next we have Skins which is a tremendously hit and miss show. I can't fault it's production for showcasing new talent in both the writing and acting departments, nor can I say it hasn't produced some outstanding acting performances and very well written storylines, but it does have a habit of relying too much on shock value by taking the 'sex, drugs and rock n roll' aspect too far, which then draws attention away from the positive aspects. Hopefully it won't be too self defeating. Next is a show that the BBC has clearly put a lot of time and effort into Mrs Mandela. On paper it looks to be a great dramatisation of the life of Winnie Mandela, ex-wife of former South African president and anti-apartheid campaigner Nelson Mandela, and I was all set on making this a highlight for the week. That is though, until I read the BBC previews for the show. All of a sudden this looks like it will be dipping far too often into melodrama and sensationalism, and has really ruined my anticipation for the show. I hold out hopes for it to be good, but they're very tentative now as we could see a life story become a soap opera when it really doesn't deserve that kind of treatment.
Now it's that time Ladies and Gents…don't forget your hats and scarves, it gets dang cold in the realm of the lowlights!
And we start off with another inexplicable vehicle for the now seeming ubiquitous Amanda Holden in Amanda Holden's Fantasy Lives. We already have Justin Lee Hawkins taking on different challenges and doing so in a much more interesting and accessible way, and being respectful in the process and Jack Osbourne taking on impressive challenges, so why do we need a show for Holden to do it too? She comes off as patronising and snobbish towards the challenges that face her and doesn't have the charisma to carry something like this.
Up next are two more sex obsessed Channel 4 shows, only these lack the redeeming features of Skins. Shameless and Desperate Housewives are both extremely popular for no clear reason. They offer nothing in the way of intellectual comedy or drama and constantly descend into smutty stereotypes. Just talking about both of them makes me feel like I should shower.
Our final lowlight has a similar effect also, as The Secret Diary of a Call Girl returns to ITV. ITV in their wisdom seem insistant on pushing this as a jewel in their crown, and all it does is highlight how synonymous with the channel, low rent drama with no substance or depth has become. Billie Piper is wasted on a show that's attraction lies in it's light approach to a seedy life, which ends up making it seem appealing. I'm not even going to waste a Keyboard Cat on this trash.
Well that's me for the week, come back next Friday for more TTWTWB, send any feedback to chris@multimediamouth.com or in the comments section below. Until next time, remember to stay safe.