Hidelly-ho Readerinos and welcome to TTWTWB, the only column where your host will get angry about having nothing to be angry about! Not sure if that's a selling point, but I think we need a catchphrase…
Anyhoo our theme this week comes from a regular provider of our musical portion, Holby City and is INXS with Never Tears Us Apart.
[youtube]http://www.youtube.com/watch?v=Imr8GLO9uNQ[/youtube]
LOVE that song, and I'd really forgotten what a superb band INXS were.
But now it's time for the last ever edition of a little feature I like to call…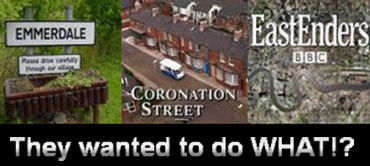 …which this week involves Eastenders AGAIN, and a most infamous character both on screen and in real life…
…'Dirty' Den Watts, who is the subject of two TWTDW-worthy entries.
Den of course was the first landlord of the Queen Vic way back in 1985 when Eastenders first aired, and was part of one of the soap's first big storyline phenomena, his rocky, affair-ridden marriage to Angie which was big enough to become the focal point of Albert Square in it's early years and pulled it's first huge rating; Over 30 million people tuned in to watch Den hand Angie divorce papers in December of 1986 which is a record still standing in Soap Opera today. Such was their influence that the Producers at the time, following the on screen divorce decided to downsize the roles of both Leslie Grantham and Anita Dobbs so as to let other characters develop and turn the programme into more than just the 'Den and Ange Show'. As with the cyclical nature of characters being featured in Soaps, the pair floundered and were given relatively minor parts and basically spun their wheels for a couple of years before reuniting as business partners, which gave way to a great deal of anticipation for Den and Angie: Round 2. This never actually happened though as in 1988 both Dobson and Grantham decided they wanted to leave Eastenders to pursue other avenues in their careers.
The Producers at the time where concerned about the potential effects the double blow of them both leaving would have, and so allowed Dobson to leave straight away but kept Leslie Grantham around for another year in a way which mirrored a device used by US television, whereby the actor would shoot a collection of scenes in a short period of time, which would then be fit into the show over the following year, meaning Grantham was only required for a few months, granting him the time he wanted to expand. The storylines filmed revolved around Den getting involved with organised crime and getting in over his head (they really love their mafia in Albert Square, I wonder if Ronnie and Reggie thought that their legacy would involve terrible plot devices on primetime TV?) and serving time in prison for arson.
Of course, this being Eastenders, nothing is as simple as it seems, and Den of course escaped from custody (quite easily too), and went to have one final meeting with Michelle Fowler, with whom he had a Daughter, at the canal (long time Soap fans will know what's coming next…). Following this meeting a member of 'The Firm', the crime syndicate he had been involved with caught up with him, and Den was shot with some daffodils. No, really he was…

…Ok, so there was a gun involved too, but by the by, Den was shot and presumably dead. This is where our first TWTDW moment kicks in, although in this case, it should be more WDTDT…WHY DIDN'T THEY DO THAT!?
Originally the plan was for the episode where Den was shot (which drew 20 million viewers itself, his figures as a ratings draw at the time can't be denied) to end with the Den's body floating in the canal, making it very clear he had been killed. However, Jonathan Powell, controller of BBC1 made the call that the scene be removed, so as to leave the way open for Den to return to Eastenders in the future. In protest at this, and to their eternal credit, Tony Holland and Julia Smith, the original creators of the show, demanded their names be removed from the credits and subsequently ended their involvement, so unhappy were they at the enforced edit.
Subtle clues were inserted in the storylines immediately following suggested that Den had survived, but these were long forgotten by the time we pick up the story again in 2002. Between 1990 and 2001 Grantham had reportedly turned down several opportunities to return to Eastenders for a variety of reasons, but 2002 was the year that 14 years of storylines and writing was urinated on from a great height when Den returned to Albert Square. He quickly started making up for lost time, reuniting with adopted Daughter Sharon, Daughter Vicki and previously unknown son Dennis who had discovered he was still alive due to his own gangland involvement. Oh yes, Den's return coincided nicely with start the interminable mafia wars storylines that led to three years of absolute misery in television form. Den was written as the same old bed-hopping Cockney Geezer, feared and respected by all it seemed and although his return initially garnered big ratings, it was critically panned and dismissed by many as a publicity stunt in an effort to boost slipping popularity. Grantham threw himself into the role, but was given a series of turgid storylines in a period I'm sure most Soap fans would like to forget, before finally being murdered and actually staying dead, in true Eastenders fashion, using a strange blunt object, a doorstop. He was then buried in the cellar of the Queen Vic by wife Chrissie and Sam Mitchell (who's recent return to Eastenders gave a heavy nod to the storyline as she still had an outstanding warrant for her role) which led to the storyline seen by many as the only decent plot on the show for some time, as the body was discovered and the murder was gradually unravelled.
Of course, most people will remember the very public reason Den was killed off in such a fashion (although Leslie Grantham has maintained that his comeback was always intended to be that long), as an (brace yourself if you don't know this, it's not pretty) internet sex scandal hit the tabloids, featuring none too flattering pictures of Grantham on a webcam doing…things…
So while the reason for the sudden change was none too palatable, we can be thankful to Mr Grantham for one thing…SAVING US FROM MORE UTTER TRASH! It's not been revealed what the original plans for Den were, so we can't for certain say "thank goodness *that* didn't happen" as we have in previous editions, but  if things had continued with Den as a focal point in the show the way they had been, it is very possible that Eastenders would actually now be a shell of it's former self, as it's ratings had nosedived prior to his second departure. We may ask "They wanted to do what!?" here, but we can be very sure we're all better off not knowing.
So, that's it for our last edition of TWTDW, but coming next time on TTWTWB…a new feature…'The Best and Worst of BLANK', as we analyse the highs and lows of Soap Opera's most iconic figures!
But enough of that, for it is time to peruse the pages before us, and see what's worth watching and what's worth sending angry letters to ITV over (I'm not encouraging or condoning it. I'm just saying…Y'know…maybe it wouldn't hurt…especially since they stuffed the IPL coverage on ITV4 of all places) as we take a look at the highlights and lowlights of the week before us!
We kick off our highlights for the week with a look at a much undersung and underappreciated soap/drama in the daytime schedules, as A Decade of Doctors looks back over the now 10 year run of Doctors, a show which has broken ground and at times managed to comfortably go toe to toe with the bigger Soaps in terms of quality. It's certainly a must watch for all addicted students out there!
Our next highlight features somebody who a few years ago would have been very high up on the list of people 'very unlikely to ever appear on anything I would even dream of watching unless it involved public humiliation', but who now is a shoe-in for that honour. Dinner with Portillo features the former Conservative MP sitting down to dine with and discuss the political issues of our age with noted figures from around the world. Despite what BBC witchhunters would like us to believe, the show is almost guaranteed to be politically balanced and should give fresh and more importantly, informed insights about important issues. This is something I really recommend everybody watch, as I feel we're certain to learn something from this series.
Our final highlight of the week has a title that will make all but the most ardent cyclist (so my eldest Brother won't mind it one bit) wince in The Man who Cycled the Americas. While the name alone is enough to make me saddle sore (and I cycled two thirds the length of France (442 miles) in ten days with said older Brother once, no joke) this should be a fascinating travelogue as record breaking cyclist Mark Beaumont travels, by bike, from the north of Alaska to the southern tip of Argentina. Cycling is a way of seeing the world like none other, and will I'm sure show us an incredible amount of contrast and variety along the way. A real treat for anybody who wants to see the World.
Well, Ladies and Gents, it's that rarest of times where I just plain can't make up my mind on something and have to dust off our televisual purgatory section. This time it's for The Delicious Miss Dahl. Now I'm all for new programmes, and especially for cookery programmes that reject their snobbish roots, and having one hosted by a non-chef is a good way to break that barrier, but this also strikes a very real fear into me, and that is that the BBC may be attempting to produce their own Nigella Lawson which means utterly obnoxious, indulgent television that relies heavily on innuendo. I really hope it avoids those pitfalls though, BBC…don't let me down.
Now we have our lowlights, and remember those letters I absolutely didn't recommend you writing to ITV to complain about the dreadful standard of their programming and rediculous scheduling? Well a great subject matter to include in such a letter if you were to write an angry letter to ITV about how terrible they are (even though I don't want anybody to do such a thing) would be This Morning: Saturday, a highlights package of the previous week's This Morning shows. I actually have no major gripe with This Morning, it's inoffensive enough and doesn't send me into fits of rage like other daytime shows, but a weekend highlights show? Really ITV? REALLY!? This has to be the single most lazy programming idea I have ever, EVER seen. I actually find the concept insulting it's that bad. There is no amount of keyboard cats I could throw in here to express it.
Not quite as bad as that, but our other lowlight of the week, this time from the BBC, holding it's end up, is Auction Party, which is essentially Cash in the Attic and Bargain Hunt crossbred with Come Dine With Me. This also is astonishingly lazy programme making, but the main issue I have here is that TV Burp finishes this weekend (don't forget to vote in The K Factor by the way!) and won't be able to tear this to shreds.
I leave you this week instead with the Knitted Character in all his glory…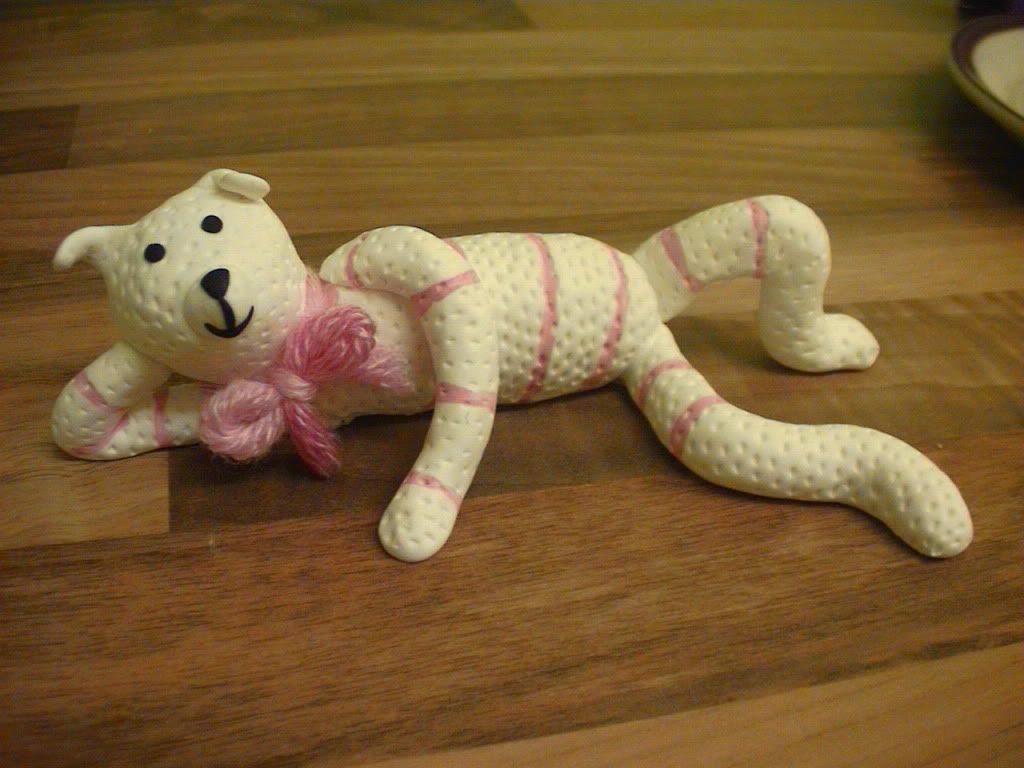 Once again I will be away next week, so another 2 week wait for your TTWTWB fix, but that should be the last postponement for a while! Until then remember to check out the rest of our great content, including the first of Eoin's pointless opinions in 2010 coming soon, the latest edition of YouBookIt and the second edition of my series on M*A*S*H as well as much more. Send any feedback to chris@multimediamouth.com, including suggestions on who I should cover first in my new Soap Opera feature, or leave a comment below. Until next time, stay safe!