Our theme for this special Royal Variety Performance edition of TTWTWB comes from the conclusion of this week's Holby City, The Fray with You Found Me.
[youtube]http://www.youtube.com/watch?v=_2_6fnjg8aQ[/youtube]
As mentioned before, this is a special edition, which means we have a lot to cover, so straight away let's get down to business!
Fittingly, as we're coming to the end of the year, this will be our last look Dingle Files, but never fear, a new soap feature will be beginning very soon! Our final look at the Dingle brood showcases the younger generation.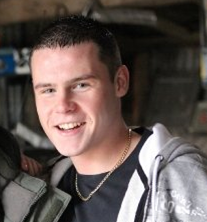 Aaron
Parents: Chastity, Gordon
Aaron is the newest edition to the regular cast members of the Dingle clan. Initially introduced as a criminal tearaway in true Dingle fashion, the writers have now introduced a more human side to his character. Rather than just being a typical soap opera bad lad, Danny Miller has developed the character into a young man you can see genuinely feels betrayed and let down by both parents and is trying hard to make his own way in life. His frayed relationship with his Mother in particular has been well portrayed, as he clings more to her ex-partner Paddy for an authority figure and generally tries to do right by him. Most recently he has set off on the path to potentially becoming the first openly homosexual Dingle, after he tried to kiss his best friend. The Emmerdale writers have impressed me here, as they haven't gone with the over the top, all guns blazing approach to the subject matter that most soaps have a convention for doing (Coronation Street with the impending Sophie/Sian storyline, take note!) and have let Miller continue to convey the character's internal dilemma and left the storyline to slowburn. This being a soap, of course it's not all been good! Every so often, the writers seem to forget the development of Aaron and have him do something idiotic and thuggish and act as a stereotype 'chav' teenager, which benefits nobody. The character is troubled, not a moron. The same can not be said however, for some of the aforementioned writers it seems.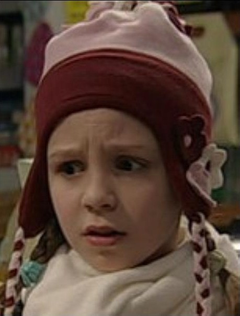 Belle
Parents: Zach, Lisa
Siblings: Cain, Sam, Tina, Ben, Butch, Nathan

Belle is something of a rarity, not just in soap opera, but in Television and Film writing everywhere, an intelligent child character that doesn't come across as a smart alec who just annoys everybody. Far from it infact, as superb young actress Eden Taylor-Draper, as featured in a previous column way back when, manages (unlike the majority of the rest of her televised family) to avoid descending into parody. She delivers comedy lines with great vim and timing and has had a number of heart-wrenching storylines too, where Eden has shown acting ability beyond her years. As she has grown and the 'cute' factor has worn off, she has remained entertaining, which is the real acid test for any young actor or actress. If Emmerdale can (and they absolutely should) do everything possible to keep Eden on the show, then they have a star for years to come.
And thus endeth The Dingle Files! It's been a lot of fun looking at Emmerdale's first family, and I may well revisit them in the future. Next week we will begin a new feature entitled 'What If?', looking at the hastily dropped and rewritten storylines that soaps have butchered up for us over the years!
Well the big TV event this week was of course the Royal Variety Performance, and it was as varied as you would expect! It started off with the Anthem as standard, sung by Faryl Smith of Britain's Got Talent fame and The Soldiers (who were a cause of tabloid controversy in the build to the event as they weren't wearing their uniforms. I say? Big freaking deal! They're called "THE SOLDIERS"! People know who they are and what they do! I know I'm on thin ice as someone who regularly rants about the quality of television shows, but some newspapers REALLY need to stop leaping into a high dudgeon every time something of absolutely no consequence happens!). Faryl outshone the three guys, but the Anthem is much of a muchness anyhow.
Peter Kay was the MC for the night, which was a brave choice given how hit and miss he can be, and considering the ab0mination his last major TV contributions have been with his terrible mock reality show and his glorified drag act 'singing' (There you go newspapers! You want something to rant about, how about a comedian using a song with as serious connotations as 'Free Nelson Mandela' and putting it in a comedy medlee?) but he did the job reasonably well, had some bright comedy moments and didn't hog the limelight, which is all you ask of an MC for an event like this.
The first proper act was quite curious and had me concerned about the calibre of the entertainment for the evening, with the bizarre combination of Anastacia, Lulu and Chaka Khan. Not the most natural trio to pick I'm sure you'll agree. It was nice to see Anastacia looking well and back in her old guise with the glasses, as the last time I saw her she had a terrible cookie cutter makeover, and the three performed Relight My Fire before seguing into some horrific Beyonce number. It was a passable performance all things considered, but a very odd opener.
Following that was one of the lesser known acts for the evening, Traces who performed an impressive tumbler act. They were a nice change of pace for the Royal Variety with a real street performer look giving a nice edge to the evening. That was followed though by a very unpleasent edge. I'm never going to be Mylie Cyrus' biggest fan, but I had respect for her as a performer…until this. There is something very, very wrong with a girl of Cyrus' age gyrating in leather hotpants, ESPECIALLY when she is marketed to children so heavily as Hannah Montana.
The night took an upward swing after that very low point, as the wonderful Whoopi Goldberg introduced the cast of the Sister Act musical, who gave a really energetic performance that showcased their abilities wonderfully.
This being variety, we wouldn't of course be complete without a ventriloquist. Paul Zerdin was the man on the spot here with 'Sam'. He did a decent little performance, including some audience participation, and seemed to be a very useful performer as far as his ability as a ventriloquist, but isn't, at least on this evidence, the most gifted voice actor which took the sheen of what could have been a big break.
Mika was up next, and gave a solid performance, but nothing show stealing with his song 'Rain', which was followed by the first comedian of the night (other than the aforementioned host) Paddy McGuinness. Given that Peter Kay and Paddy McGuinness essentially have the same act, it seemed odd to have them both on the same bill, and Paddy was largely forgettable with no big laughs to be had.
Next we had our second candidate for show stealer, as Katherine Jenkins sang with a large, elaborate stage display around her. Passing up on the classical stuff, she sang Evanesence's 'Bring Me To Life' and really left the audience wanting more. It also left me very interested in hearing her take on more heavy songs, perhaps in unison with Hayley Westernra (who's version of Metallica's Nothing Else Matters is also a favourite of mine).
[youtube]http://www.youtube.com/watch?v=gA5I7mWEETs[/youtube]
Hal Crumden was our next act, and was a nicely alternative standup performance, with a very different style and delivery to Kay and McGuinness. He got the second big laugh of the night after Whoopi's short turn, and could well be the launchpad to greater things for Hal.
Michael Buble was next on stage to stake his claim for performance of the night. A stellar performance of Jazz/Blues classic Cry Me A River was followed by a well executed little skit with Peter Kay (which included an amusing shot at Madonna, for no clear reason other than taking shots at Madonna is amusing) and then Buble's second song Hold On.
[youtube]http://www.youtube.com/watch?v=BZIoe_D_2n8[/youtube]
After that was the second low point of the night after Ms Cyrus. Andre Rea and the Johan Strauss Orchestra, while inoffensive, were utterly boring, doing nothing aside from a very dull recital. Out of nowhere, dancers in the aisles of the auditorium appeared to liven things up a bit, but the mood had been killed by then anyhow.
Jason Manford gave us our penultimate comic performance of the night, and was ok, if unspectacular. His act again can be similar to that of Peter Kay and Paddy McGuinness, but he was able to give us enough of a change for it to be fresh, and it woke us up after the Waltz.
Diversity were up next, after winning Britain's Got Talent. As a dance troupe, they have real ingenuity and that had me excited, but I was also very cautious, given the terrible performance of the previous winner, George Sampson. Fortunately, I had nothing to worry about as Diversity unlike George had clearly retained creative control of their act, and were our fourth blowaway act of the night.
[youtube]http://www.youtube.com/watch?v=RkL0ycV1uCU[/youtube]
Things stayed impressive too, as Lady Gaga equalled all that had come before with her usual elaborate stage performances and great vocal and piano skills with 'Speechless'. It also later gave us an inexplicably hilarious image of Lady Gaga shaking hands with Queen Elizabeth II, which made the whole thing worthwhile.
[youtube]http://www.youtube.com/watch?v=k7-eRxBuGys[/youtube]
Our final comic performance of the night was also the best, continuing the run of good acts, as Australian Adam Hills took to the stage. I'm a big fan of Hills comedy and he got the most laughs of the night. I do feel the need to point out that a Royal Variety performance is a tough stage for any comedian. In a short space of time they have to establish themselves, make their style of comedy known and get sufficient laughs before closing appropriately and usually introducing the next act. All things considered, the whole bunch did well.
Next was our third very low point of the night, and the best sleep I'd had since this person performed at the final of The X Factor. Alexandra Burke is an act I really have no time for. She has an ok voice, but that is it. There is nothing in the performance and no feeling in the vocal. The only positive I'll give this is that traditionally on boxing and wrestling cards, there is a match placed to deliberately cool the crowd so they aren't burned out for the main event. This filled THAT role superbly.
Our second 'alternative performance' act of the night was the shadow dancing act Pilobolus, that also performed at the Oscar's ceremony earlier this year. They were very impressive, but as with all non musical acts, time restrictions meant we only got a brief taster of what they could have shown us.
Bette Midler was of course the headline act for the show this year, and The Divine Ms M was on top form, humble, gracious and in superb voice. For someone who has achieved so much in a career spanning as long as her's does, there was not a hint of any celebrity arrogance or seperation. Instead it was like watching an old friend on stage, a really warm crescendo.
[youtube]http://www.youtube.com/watch?v=c9ZMDPf9hZw[/youtube]
Bette introduced the Sister Act cast again for the closing performance followed by all the acts taking their bow. As Royal Variety Performances go, this was one of the better in recent memory with the good far outweighing the bad. Mylie Cyrus will be a black mark against it, but the run of performances from Katherine Jenkins through to Adam Hills was spectacular.
But anyhoo, that's been and gone and I'm here to preview what's not been but is what is yet to come….or something….Anyway…it's mostly highlights this week!
We start those off with the free TV debut of the Knight Rider remake. It doesn't quote have the kitsch charm of the original, nor does it have David Hasselhoff's unrequited love affair with a car, but rather like the Bionic Woman remake, it gives a slick looking modern adaptation that entertains and will attract a new audience who never got to enjoy Kitt first time round.
Another US import on Five now, as 'Til Death debuts. Brad Garrett of Everybody Loves Raymond and Hulk Hogan's Rock 'n' Wrestling (What!? He voices Hogan in it!) fame stars, and that is a very good sign, as he has a real knack for comedy. It's been a while since a US comedy really struck big on UK TV, so Five will be hoping it succeeds.
Next up is what looks to be a real standout drama. Crusoe is a production of the classic Daniel Defoe novel. It's a story I would have thought most people know at least a portion of, and is a classic energetic drama. With an excellent cast including Sam Neill and guest starring Sean Bean for the first episode, this could rival Wuthering Heights, Lie to Me, FlashForward and Stargate: Universe for the best show this year has produced.
Our final highlight is the only thing with 'Christmas' in the title you're ever likely to see me put in this section! Royal Institution Christmas Lectures is intelligent television that is truly accessible to anybody who wants something to get their teeth into over the holiday period. Featuring some of the best lecturers in the academic world, really this is 'can't miss' television.
As good as those shows will be though, we have two absolute abominations for you to avoid!
Heads or Tails is the latest attempt by a channel to recreate the success and popularity of Deal or No Deal and is also the latest attempt that will fail. Big money prizes, but lazy overhyped quiz styling is really getting to be old hat now.
Our second lowlight is something that really chills me to the bone…The Nolans: In the Mood for Dancing. This has left me in the mood only to do this…
PLAY THEM OFF KEYBOARD CAT!
That's me for the week, keep an eye out over the next few weeks for year ending articles as well as TTWTWB as normal next week. Send any feedback to chris@multimediamouth.com and remember to always stay safe.