Hi-dilly Ho Readerinos and wel-diddly-welcome to a Flandericious edition of TTWTWB. Ok I'm not going to keep that up for a whole column, but it's hard to find original opening sentences! Again, the television powers that be haven't seen fit to give us some music to use as a theme, so I'm diving into my personal library again. Selected at random by MultiMediaMouth Head Honcho Eoin Mason, it's Leona Lewis' cover of 'Run'.
[youtube]http://www.youtube.com/watch?v=JbrrSpw4qhk[/youtube]
I'm afraid to say Ladies and Gents that I really can't think of much to write about this week! Nothing momentous is currently happening in the world of Television that stands out as newsworthy. I was hoping ITV would produce a statement to try and brush off the fact that 'Daybreak' lost 200,000 viewers putting it well behind BBC's Breakfast which stood firm at 1.4 million, but for once they did what was best and kept their traps shut. Doesn't change the fact that after the money they spent out getting Pinky and Perky over from BBC and revamping the whole format they could have achieved the same by putting Kate Garraway in a hat.
Elsewhere, Lie to Me finished it's latest series on Sky One which I'm very sorry to see go and genuinely look forward to it's return for it's third series. Tim Roth has done a lot of great work, but his fantastically down to earth but at the same time quirky performance as Cal Lightman is pretty much seminal. I can't praise the show enough and fully recommend everybody tune in to it. My sadness however was tempered by the news that Modern Family is returning soon! Without a doubt, the funniest show on TV at the moment, produced by the geniuses Christopher Lloyd and Steven Levitan (also of Frasier) it's smart, dry, witty and accessible with it. Really keyed up for this to come back!
Other than that? Not a whole lot of anything happening, so we'll dive straight into the previews for the week ahead!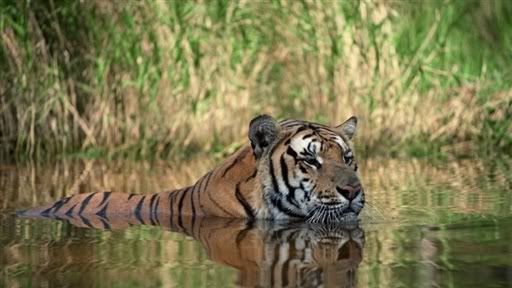 Just one highlight for the week, but it's a goody! Lost Land of the Tiger is the third series in the Lost Land… franchise, following on from LLOT Jaguar and LLOT Volcano which were in Guyana and Indonesia respectively. Unique from other wildlife and natural history shows, LLOT follows a group of Zoologists and Explorers in a formerly unexplored area documenting new and rare species uninfluenced by man and their activities. This series is set in a remote part of the Himalyas and promises among other things to be tracking Tigers, which should be truly incredible viewing. If you watch no other wildlife shows this year, watch this.

Diving into our lowlights then, we have probably the most disappointing show of last year, surprisingly returning for a second series. The potential for this one is off the wazoo, but in reality only a few of the sketches have lasting appeal and much of the writing is poor, letting down the superb voice work. A show with cute animals and funny voices should not leave the viewer feeling empty!

*Sigh*…I don't like to repeat myself too much. I really don't. For this, just think of every terrible quiz show that tries to force the drama and tension in stupid, convoluted and over the top ways. Phillip Schofield is far too good for this.
I'm actually inclined to go the whole way, and say this is on a par with the following…
[youtube]http://www.youtube.com/watch?v=YzZ86GYoxE0[/youtube]
…but I'll get Game Show Garbage's Robert Seidelman to give his opinion on that for our next edition in two weeks!

Next we have Spooks, an inexplicably popular show. I've mentioned in the past the terrible results that come when UK producers try to make a show in the US drama style. The flow is all wrong, the plot loses all grounding and the pacing is terrible. Also, having the death of a major cast member EVERY SERIES stops being surprising when it's EVERY SERIES. Just a dire blotch on the schedules.

Richard Bacon's Beer and Pizza Party is our penultimate lowlight for the week. Aside from the word 'pizza' I can't find one thing I like about that title for starters. Additionally, when you learn it's just a vehicle for people to be 'hilarious' when discussing current issues with the gimmick of being set in Bacon's home? Who thought that was a good idea? Just a soap box for annoying people who want to see themselves on TV more and more.

And finally we have What Katie Did Next. Frankly, who cares? HEAT magazine garbage from ITV2. The channel that said their Autumn season would be 'unbelievably hot'. Surely that should go against advertising standards?!
So that's me for the week. Apologies for the short edition, hopefully more will happen in the next two weeks that makes more interesting discussion!
No column next week, attending a funeral, but in the mean time we have a Game Show Garbage, One Word Comic Reviews and just around the corner is the London Film Festival where we'll have our people out and about!
Send any feedback to chris@multimediamouth.com or in the comments and in the meantim, rememer to stay safe!