What up TTWTWB fans!? Welcome to another edition of the column that has literally fans. As always we'll kick off with a theme, this week from Holby City. 'Maggie May' by Rod Stewart.
[youtube]http://www.youtube.com/watch?v=h9dlG-iq3F8[/youtube]
We've all the usual ingredients this week, and of course we start off with a visit to Soap land!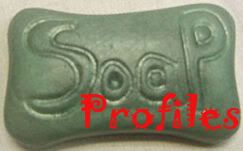 As promised, this week we'll be taking a look at Soap's favourite Vet, Paddy Kirk.
Arriving in Emmerdale in 1997, Paddy's tenure could best be defined by two predominant features; A lengthy list of failed romances (including two marriages) and his close friendship with Marlon Dingle which has provided many hilarious moments, and a fair number of quite touching scenes. To address the first of these things, it's time to break out the ol' bullet points. If ever there were a clear sign that Soap writers can't leave happy couples well alone, this is it!
After first appearing as a locum for Zoe Tate in the Veterinary Surgery, Paddy was immediately drawn to Mandy Dingle, but despite the couple's love for each other, Mandy instead married her cousin Butch (Soap Demi-incestual relationship #38272) after being paid off by Paddy's Mother.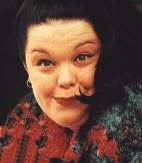 Mandy Dingle
Briefly dated Bernice Blackstock, but on a date with her ended up proposing to Mandy (now split from Butch) who accepted.
Married Mandy in 1999, but split and divorced 2 years later after learning of her affair with her Father's carer Neil.
Fell for Emily Dingle (who had also been married to Butch Dingle, and was left a widow after his death) and after dating for a short while married in 2002 in an impromptu ceremony, stepping in when Marlon and Tricia's wedding didn't go ahead.
      Paddy and Emily on
      their wedding day
Things were happy for a time, and the couple even fostered a child who turned out to be Debbie Dingle. Of course, the writers got itchy feet here and Paddy had an affair with Emily's boss Viv. Emily had a breakdown as a result and the couple divorced bitterly.
Via a practical joke by employee Jo, Paddy met Toni Daggert who he fell for but she didn't reciprocate.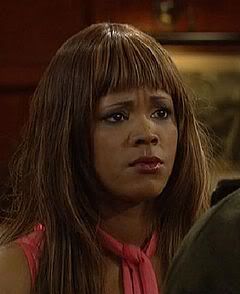 Toni Daggert
Paddy got close to Delilah Dingle, but the relationship was broken up by the presence of Toni who realised she did in fact love Paddy. Paddy and Toni eventually split however after Paddy refused to marry her.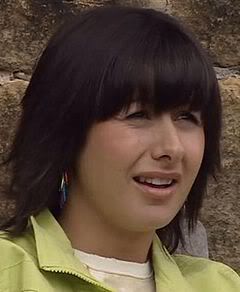 Delilah Dingle
In 2008 Paddy fell for yet ANOTHER Dingle (there pretty much is an endless stream of them) in Chastity, and the pair ended up living together, all the while forming a familial bond with Chas' son, Aaron (more on whom in a bit). Chas ended up leaving Paddy for her ex, Carl King.
        Chastity Dingle
It's pretty clear that Paddy's love life has been put through the ringer by Emmerdale's producers a number of times, which as mentioned is pretty much par for the course when it comes to Soaps, but it is very worth mentioning that actor Dominic Brunt who plays Paddy is a very capable actor who has made every dramatic scene very significant and extremely watchable with great understated performances, which is especially important when he has had to act opposite some of the worst Soap over-actors in the past. With a character as likeable as Paddy though (and herein lies one of Brunt's finest assets), who really draws you in as a viewer and makes you care about him because he is such a convincing and down to earth 'everyman' character, largely free of Soap cliches in personality, often you're left wishing they would give him a break and have an extended period of happiness. This just makes it all the more disappointing when the writers 'turn the screw' again and again. The performance will be great, but the writing of that side will leave you flat.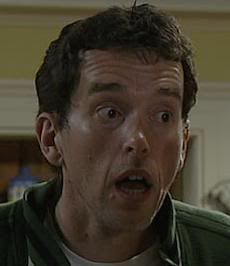 Marlon Dingle
The other defining feature of Paddy however is the one that people will most fondly refer to, and one that will never leave you feeling flat, that being his friendship with Marlon. Paddy and Marlon, Dominic Brunt and Mark Charnock, have such fantastic chemistry on screen, both in dramatic and comedy scenes that they are always a joy to watch. Now Joe Gilgun has left and Eli is no longer around to entertain us, I really hope Paddy and Marlon are given plenty of screen time to make up for it. They manage to make even the most mundane set up dialogue wildly funny and have (and I have no shame in admitting this) moved me to tears on a number of occasions with such convincing vigour in their serious scenes. During Marlon's last big storyline, when his wife was having an affair with Paddy's cousin Ross, the scenes where Paddy stuck up for his friend and rebuked Ross were the highlight of a hit and miss plot. When Paddy, along with Eli helped rebuild the devastated Marlon after the marriage ended, the friendship seemed real and credible, which is something that is so often missing from Soap performances, and is something Brunt deserves no end of credit for.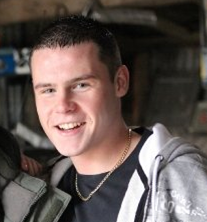 Aaron Livesy

Most recently however has come arguably Paddy's toughest storyline to date, and one that has gained plaudits and admiration for all the actors involved, revolving around Paddy's friendship and bond with his ex-partner Chas' son Aaron. In a rare bit of forethought and long term planning, from early on in Aaron's run, they had established he was not a 'bad lad' as everyone had thought, rather he was a troubled young man who had lacked parental guidance and stability. This was something given to him by his first proper home, with his Mother and Paddy. When Chas and Paddy split, Aaron was particularly angry at his Mother for destroying the comfortable life they were enjoying, and Paddy, who had grown fond of the young man, allowed him to remain living with him, thereby maintaining the positive influence in his life. Despite some initial teething problems, the arrangement worked well, and once again excellent chemistry was shown in the scenes involving the pair. As Aaron's problems have surfaced again recently as he struggles with his sexuality, resulting in a suicide attempt, his bond with Paddy became strained which led to some of the best acted scenes in the past year, as Paddy tries to help his now practically adopted son.
As well as the stellar performances, it's nice to see Paddy given some time away from the constant romantic mishaps so Dominic Brunt can flex his acting muscles, although a reuniting with Chas has been teased on a couple of occasions, but no matter what they churn out for us, we can at the very least be sure Paddy will always be an eminently enjoyable character who we can always look forward to seeing on our screens.
Next week our Soap Profiles return to Coronation Street for a look at Carla Gordon/Connor who will be featuring very heavily in the weeks to come!
At this point I could very well continue my rant about the rapidly plummeting quality of Eastenders and Coronation Street in recent weeks (the return of Tracey Barlow in Corrie has been one big unrealistic, horrible annoyance so far) but suffice to say the last week has not encouraged me, and with the news that more characters are being axed in Eastenders and being replaced by horrible bit part gimmick characters, I am very much losing faith in their new Executive Producer Bryan Kirkwood before his shows even start making it to air. With his promises of 'sexing up' the show and his blood letting from the current cast, it seems he is determined to turn in it into Hollyoaks which he produced in the past. The worst thing about it all is that all of these actions seem not to be taken in the interests of producing entertaining drama, but rather in the interests of creating controversy and saying 'look how edgy I am'. If quality descends much further or any more ludicrous plans are announced, I will actually begin considering how regularly I watch Eastenders, and I'm sure I am not the only one feeling that way.
Sigh! Let's have something cute to cheer me up…

Even baby pandas are discouraged by Bryan Kirkwood. Fact.

But anyhoo, sad pandas aside, we have a whole new week to look forward to, and despite the fact we have a few ugly, UGLY entries, we have a couple of really pleasing highlights to start us of…
We kick off with the lengthy titled Springwatch Signs of Change with Chris Packham, which sounds like some sort of bizarre genre crossover looking into male menopause, but is in fact a fresh look at climate change under the Springwatch banner. Never before has a show been so rejuvenated by a change of personnel! The switch from the curmudgeonly and at times downright rude and abrupt Bill Oddie to the ever youthful Packham has been one that has turned the show into a much loved primetime favourite. Packham isn't afraid to speak his mind however, and so expect this show to be frank on environmental matters as well as containing the usual informative patter that has made Springwatch so popular.
Our second highlight for the week is a musical offering, in the shape of More Guitar Heroes at the BBC. The BBC has a pretty spectacular video library of musical performances from Rock greats such as Jimi Hendrix, ACDC and others, and is doing a great service in taking advantage of that library. Iconic and forgotten performances alike, this always, always entertains.
However this week, sadly not everything is as entertaining, as between them Five and ITV have combined to give us a brace of suck that may not be equaled for a long time.
We start off with a show that is just an appalling mish mash of ideas. Family Food Fight covers so many genres it'll make your head spin. Firstly it's fronted by celebrity chefs, so we have that element. Next we have the fact that families from the general public are on there, adding a reality element. On top of that, those families are competing, so it's a game show, but it's also a game show aimed at helping people to cook and eat healthily, so we have the extremely tacked on 'healthy eating information' agenda. All that just seems to be overkill and doesn't do anything to liven up what is an extremely bland looking show. Add to that the fact it's in a primetime slot, and this could get slaughtered in the ratings very quickly.
Our last lowlight for the week though is ITV pretty much excelling itself. In the last few weeks I have gone on a few diatribes about ITV being at least five or six years behind the cultural zeitgeist when it comes to creating vehicles for relevant stars. The David Dickinson Show may as well have been made up by me to illustrate that point. Take David Dickinson, five years or more past his peak popularity, place him totally out of his area of expertise and give him a live, daily teatime chat show. Yes you read that right. We're promised topical discussion, a competition called 'Seal the Deal' (could they get any closer to Deal or No Deal without geting sued?) and a look at 'unusual antique collections'…Oh imagine the hilarity there…
Really for me, this marks a clear milestone for ITV. For a long time they have been teetering on the edge of  the cliff creatively, and this show is a sign that they have finally plunged into the mire. Clearly somebody there is determined to give Kevin Lygo, who is moving over from Channel 4 to run their programming absolutely nothing to work with. I'll just finish off this show with one other point, directed openly to ITV. You were inept enough to let Paul O'Grady go thinking you could replace his excellent chat show, just stop trying to do that. He has shown his success was nothing to do with ITV management as he has gone onto even greater heights on Channel 4, so stop trying to capture lightning in a bottle again, because frankly it's not going to happen. Look for fresh new programming, and for goodness' sake, STOP REHASHING!
I'll hand over to a correspondant to summarise my feelings on this…
PLAY THEM OFF KEYBOARD CAT!!
Well I'll leave the keyboarding kitty to serenade you, thanks for reading. Don't forget to check out our new feature, One Word Comic Reviews, and keep an eye out for the second part of my M*A*S*H series, as well as another brand new feature, Game Show Garbage! Until next week, send any feedback to chris@multimediamouth.com or in the comments below and remember to always stay safe.