We'll kick off this week with a sensational mashup performance from Dizzee Rascal from Jools Annual Hootenanny.
[youtube]http://www.youtube.com/watch?v=f0NSiY01X-k[/youtube]
Welcome Ladies and Gents to the first TTWTWB of the year, I am as always, your host with not quite the most but almost (I'll keep working on that, I promise) and seeing as it's been a couple of weeks since a standard edition we best get straight to business!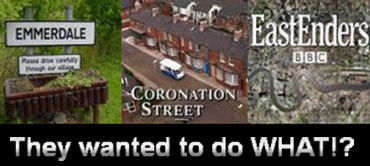 This week's soap debacle involves a Coronation Street character and the end of an actor's career! Cast your mind back to one Mr Martin Platt.
Martin was a Street mainstay after marrying Gail Platt, taking on step-children Nick and Sarah-Louise (more on whom in a bit) and producing their own little Plattspawn, David. However, this being soap opera, married life didn't last (although this one had more legs than most are allowed to in current day storylines) and Gail ended up with serial killer Richard Hillman in one of the most famous, and possibly worst soap storylines of all time. Martin eventually controversially ended up with 16 year old neighbour Katy Harris, before they were split up by her irate parents. Katy murdered her Father with a wrench (reads like an episode of themed Cluedo doesn't it!?) and subsequently died in prison. Martin eventually left with new partner Robyn, never to be seen (although he still gets namedropped by son David who went to stay with him in storyline recently) again. In itself, that is a terribly melodramatic run of events over the 20+ years he featured, but nothing quite as bad as what the writers had planned for him, which led to his eventual departure.
You see, the writers were, for some strange reason, enamoured with the idea of Martin being with a girl of 16. However, horrifically the original plan did not involve Katy at all. Rather, the original plan was for Martin to start a relationship with…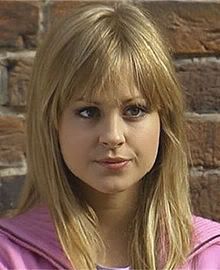 his former Step-Daughter Sarah-Louise who was 15 at the time (What the hell is it with Soap writers and semi-incestual relationships!?). Sarah who, lest we forget, already had a baby of her own by that stage, presumably would have followed the path Katy took as far as getting pregnant by Martin, and maybe even would have been the one to have taken a wrench to somebody (Gail maybe?) after being convinced to have an abortion under false pretenses. This of course would have been only a short time after Richard Hillman's reign of terror and would have left Coronation Street resembling an episode of Midsomer Murders.
So what put the kibosh on that and forced a hefty rewriting? Well at least one person inside Granada Studios had some sense, and actor Sean Wilson who portrayed Martin flatly refused to participate in any storyline where he would be linked to an underage girl. After the Katy storyline was written instead and then finished, the writers once again approached him and told him their plans to link him with an underage girl yet again. Once again Sean refused, and as a thank you for 20 years of service to Coronation Street, the character of Martin Platt was axed late in 2005.
I really have to give credit to Sean Wilson here for standing up for himself so as to not demonise himself in public or draw unwanted attention to his family, after all, soap actors still get verbally abused in the street for the actions of their characters, and I can't imagine the reception would be good for someone playing a role like that. Wilson himself also deserves props for his post acting success. After leaving the business in 2008, disillusioned with the lack of good offers coming this way, he started his own Cheese company, Saddleworth and won three awards in only his first year in business, which is a very impressive effort.
But what of the rejected storyline in Coronation Street? Well with a slight rehash it became the storyline given to Debra Stephenson as Frankie Baldwin and her relationship with her Step-Son. I suppose you can't fault their commitment or persistance!
We'll have more horrors for you next week, but for now we have more recent things to be discussing.
We have two big departures to focus on from the last couple of weeks. We'll first deal with the one that everybody knew was coming and was looking forward to with deep anticipation. David Tennant's last appearance in Dr Who was very well executed, with his emotional last visits around his companions of the last few years tying up loose ends nicely. Particularly moving was his interaction with the pre-Doctor Rose and of course Bernard Cribbins all too short run as the Dr's assistant in which he delivered another show stealing performance. However as willing as I am to give Matt Smith a chance to impress as the Doctor, he didn't impress me in his cameo in the same way David Tennant grabbed me in his first appearance.
The other big departure news came only yesterday, as Jonathan Ross announced he was leaving the BBC after 13 years. With his Wife's link to Channel 4 and there upcoming scheduling void after Big Brother finishes, his eventual destination seems obvious. However the best news to come out of this was the announcement of who would be replacing Ross on the Film series. If you heard sounds of raucous celebrations yesterday, that would have been me and Eoin celebrating that Mark Kermode would be the new presenter, which is a tremendous choice, and should have been made years ago before Ross became a parody of himself.
So that covers the last two weeks, what about the week ahead? Well if it's highlights and lowlights you want, you've come to the right place! It's a real bonanza for new shows this week as the holiday TV lull is filled. We have a few highlights, a few 'not sure yets' and of course…LOTS of lowlights!
All four of our highlights this week come from across the pond in the US. Heroes comes back to the BBC for it's fourth series. Despite the show having lost it's luster for several fans it remains a ratings winner. I likely won't give it much of a look, but it'll be water cooler fodder for a lot of people. Causing real excitment here at TTWTWB however is the return of CSI and CSI:NY. With the original Las Vegas edition in it's first full series without William Petersen's Gil Grissom, look for some breakout performances from the very, very able cast that always produces the goods. The New York edition ended it's previous series on a massive cliffhanger after the team were gunned down in a bar, and personally I cannot wait to see what happens in the continuation of the storyline on Saturday night. Both these parts of the CSI franchise are real 'can't miss' shows. Our final highlight of the week is American Idol which starts it's audition rounds giving us both the wonderful and the tragically hilarious. Ruben will be covering this at some length for MultiMediaMouth so keep your eye out for that, but also do set aside time to watch it, because overall the quality far outweighs that of The X Factor in the UK.
Very occasionally in this column I get split in two, and just can't decide whether a show is great or terrible, and this week we have not one, not two but three such shows. The first of these is Dancing on Ice, ITV's answer to Strictly…on ice. It's a show that REALLY depends heavily on the celebrity competitors and their attitudes. If they obnoxiously talk back to the judges and play up the the baying seals in the audience, then it will most definately be a lowlight. Secondly we have Lark Rise to Candleford. This is a show that died a slow, painful repetitive death in it's second series after a great first series. If it can recapture the charm and humour of the first series then it is most definately worth watching. If I see the character of Robert Timmons get needlessly outraged about something, only to be talked down by an impassioned speech from his wife, then we'll know the series two formula has kicked in, and it's not worth watching avidly, but by all means dip in and out, as there still is entertainment if you can cut through the slush. Our final purgatorial entry this week is Paul Merton in Europe. Rather like Lark Rise, this had a very good first outing, and then a second series that was so obviously just going for cheap laughs and shock attractions that it lost the enthusiasm the first series exuded. It remains to be seen whether this series will just go for the cheap laughs or for properly interesting programming, and that will determine whether this show is worth watching.
So then, I promised lowlights and lowlights we shall have! Eight things to avoid over the next seven days…
We start off with the very worst in benign, nothing programming as Wild at Heart inexplicably returns. As Harry Hill once put it…why?!
Being Human very nearly made it into the purgatorial section, but in the end I decided this show wastes too much potential to be considered anything other than a flop.
Terrible game shows continue to be en vogue as Wogan's Perfect Recall returns. Again, just…why?! This is especially odd as Channel 4 has the game show market cornered with Deal or No Deal.
4 also has another ugly returnee…Come Dine with Me is back for ANOTHER series. That has to be 5 in the last 6 months, and it has never once been anything more than irritating.
On the subject of irritation, Delia through the Decades gives an uneeded and much less wanted summary of Delia Smith's televised culinary career. Very, very dull and patronising programming.
As much earlier as I sang the praises of the CSI franchise, not all editions of US franchises are worthy of the name. I speak, of course, of Law and Order: UK which takes the Law and Order format and mangles it in the way only ITV can manage. ITV aren't the only ones guilty of wrecking something either, as the BBC brings us a second series of the remade Survivors, a series devoid of drama, tension or any sort of appeal.
The final lowlight for the week however comes in the form of the absolutely terrible looking Take Me Out. Remember the early-mid 90s horror Man O Man? It's like that, only sleazier. Truly awful television. I have only one thing left to say…PLAY THEM OFF KEYBOARD CAT (featuring Hall and Oates)…
[youtube]http://www.youtube.com/watch?v=VfxY59V6bgU[/youtube]
I'll leave you in the capable paws of the Keyboarding Kitty! We'll be back with more of the good, bad and ugly in the world of television next week. In the meantime check out the rest of our great content, send any feedback to chris@multimediamouth.com or in the comments section below and remember to always stay safe.