Evenin' all, and welcome to another edition of TTWTWB! I'll start with an apology as we're going to have another abridged edition due to more unforeseen circumstances (taking the cat to the vet, oh the glamorous life we MultiMediaMouth people lead). It is however another bumper week for new series on TV, so we've no shortage of things to look at! As always though, we have our theme, from the Ol' reliable Holby City. '5 Years Time' by Noah And The Whale.
[youtube]http://www.youtube.com/watch?v=Uc3ENzHv1aY[/youtube]
So without further ado, let's get to previewing!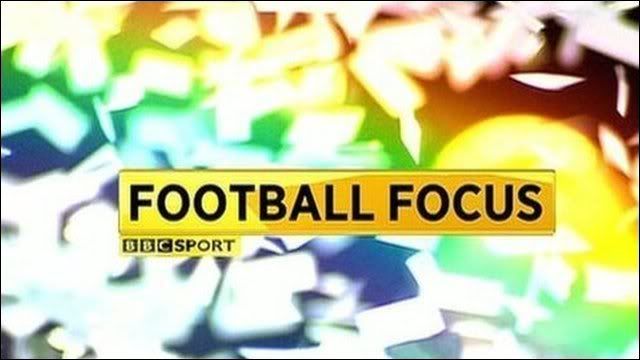 We kick off, pun fully intended, with the return of the BBC Sport standard Football Focus. FF is always entertaining, and has a good combination of highlights, interviews and features. After the abysmal showing from each and every pundit during the world cup (seriously guys, you're paid to do a job most people would kill for, do some freaking research so you don't look like ignorant tools!) I was tempted to put this in the lowlights, but recently I was browsing some things I'd favourited on YouTube and came across the superbly produced Hillsborough special FF aired last year on the 20th anniversary of the tragic events. A show capable of that kind of fantastic quality deserves a place in my highlights any time.
Our second highlight of the week comes in the shape of The Unforgettable Bob Monkhouse on ITV. Yes, a primetime ITV highlight, wonders will never cease. I have reservations given ITV's penchant for HEAT magazine presentation, but the excellent collection of contributors from throughout Bob's life and career that has turned out means I give this a tentative thumbs up. I mean, surely ITV can't totally screw that up?!
Now we have probably the oddest entry into TTWTWB's highlights ever, but damn, I love this show! Privileged should tick all my lowlight boxes, but something about it just…works. It manages to keep the irritating elements other US sitcoms I'd put in a similar genre (Sex in the City and Desperate Housewives) have out of the mix and produce a well polished, dry send up of the wannabe WAG lifestyle. It also has a refreshing 'odd couple' dynamic that so many other sitcoms try and fail to generate. Watch this for a pleasant surprise.
Number four on our list of highlights is the brand new Grandma's House. The hilariously funny Simon Amstell brings his own brand of bone dry, sarcasm laden humour into a sitcom based around a small time TV Presenter looking to branch out. I don't often speak in detail about preview video clips, but the previews for this make it look AWESOME. This has massive potential to be the next BBC comedy breakout. Amstell is a great comic performer, gifted in deadpan delivery and his writing is great, producing probably the strongest episode of Skins as guest writer. Watch it! You can thank me later…
Now we greet the return of a TTWTWB favourite in the shape of Ugly Betty. Sadly in it's last series, this will be the last we see of Miss Suarez, and I really will miss this show. The ability to combine farce and realism, the surreal and the human is very tough thing to master and get in the right blend for a television show, the tendency is to beat the viewer over the head with it, but Salma Hayek manages to keep the balance well. Don't get me wrong, it's not Twin Peaks, but it provides a package that really hasn't been seen before for television and probably won't be for a while again. I hope it gets good ratings to have a positive sendoff and help it be remembered well.
Our penultimate highlight is a bit of a curious entry, but one that has intrigued me since I first read about it. Home Movie Roadshow Uncut is a bit of a non-descript title, and doesn't do the premise justice. A unique look at social history in the UK, HMRU looks at the home videos of celebrities. To see the people about whom the zenith of what we hear is contained in glossy magazines full of BS and guesswork in true, real life situations with their guards really down will give a real insight that is something difficult to pass up. This should also have a wide appeal, as any number of people will be interested in what is being aired, it's just a pity it hasn't been advertised more.
Our last highlight then for the week (told you it was a bumper edition) is The Culture Show at The Edinburgh Festival. I've waxed lyrical about Mark Kermode and Lauren Laverne's excellent presentation of an excellent show many times, and the prospect of the Edinburgh Festival is an exciting one. Really looking forward to this.
On then to our lowlights, and well…just ugh for this first one. Brothers & Sisters is a drama of two elements. Speech is either hushed and anxious, or the characters are bawling their eyes out. It seems Sally Field is unable to play anything other than schmaltzy melodrama, and the pretentious attempts to make it seem 'real life' fail miserable. The success of this one really is a mystery.
Now we have a show that has been little vaunted, and with very good reason I might add. Dinner Date combines two factors that never make good telly; dating shows and ITV food based shows. Basically some unfortunate man lucky guy gets to pick 3 dates based on their choices of menu. Yup. Ever seen a weaker premise for a show? The only thing that might save it is the fact the wonderful Charlotte Hudson is narrating. If she brings the deadpan wit she displayed on Braniac: Science Abuse and is given free rein over the comments she can make, this could turn into a very popular choice. Sadly, it's ITV, so we can say that's very unlikely.
Our final lowlight for the weeks is a terrible, sad and lazy amalgamation of bad ideas. Cash in the Celebrity Attic pretty much contains EVERY idea I dislike in television and festers away in the daytime schedule. The saddest thing here is that the divine Maureen Lipman in the subject of the first episode. You're too good for this Maureen! I'm just a sad panda now…
And that about finishes me for the week! No column next week as I'm taking a short holiday, but the latest M*A*S*H article will be up before then! Until next time, we have a new Game Show Garbage and a new One Word or Less Comic Review! Send any feedback to chris@multimediamouth.com or in the comments below. Until next time, remember to stay safe!