Our theme this week is a song that has been everywhere recently as the new series of True Blood makes it's way onto UK television. Jace Everett singing 'Bad Things'.
[youtube]http://www.youtube.com/watch?v=OSSjYFPTRAQ[/youtube]
Welcome once again Ladies and Gents to TTWTWB after a week hiatus. Last week we were battling with Gremlins (They were all "We're gonna screw your website up!" and I was all "SCREW YOU! *PYEW PYEW PYEW*" so then they're like "Well we'll leave but won't tell you what we did…" and I was all "CURSE YOU WORDPRESS!" until I followed a tutorial and got everything working again*)
*Events may not have actually taken place as described there. 
Basically though there was a lot of weeping and gnashing of teeth.

so we took a raincheck, but as promised, we're back and ready to kick some small screen keister!
Right…where was I…Oh yeah, TELEVISION! Let's get started with a little feature I like to call…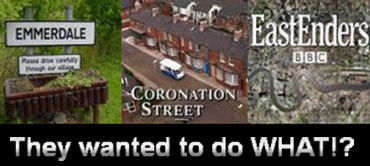 Our narrowly avoided horror for today involves Coronation Street's Dev Alahan.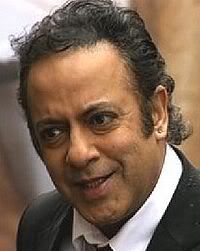 He of the exteeeeeeeeendeeeeeeeeeeeed vooooooooowel sooooooooooouuuuuuuuunds at seemingly random intervals. He's a well known face and a popular part of the Street to this day, so let me now reintroduce a character you may not remember so well…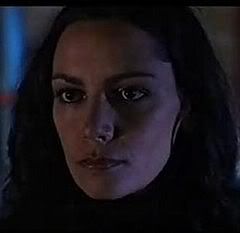 Maya Sharma, who the press dubbed as 'Mad Maya'. Remember her? After a brief romance with Dev, she started showing signs that she wasn't fully sane, which were written into the show in a manner about as subtle as a sledgehammer to the crotch. In a manner which made Glen Close in Fatal Attraction look like an Enid Blyton character, she blackmailed Dev into proposing to her, stole pet Dogs, broke vases, and when slighted by Dev who returned to his true love Sunita, she destroyed his home and all his clothes. Because that's what every unbalanced woman does in Soap Opera, in that way that reflects real life so well…
Anyhow, after a car crash scene that was better suited to Dawn of the Dead given the amount of fake claret that was doused around the scene, a lorry basically landed on top of the car (which I'm sure you'll agree is an everyday occurance) and Maya was taken to hospital under police escort and later transported to prison, thus ending the run for Maya.
"So", I hear you cry, "what could they have possibly done to make this worse?" Now the obvious answer was to give her a top hat, a villainous moustache and have her start tying damsels to train tracks.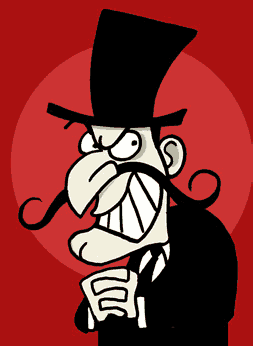 Your next Villain of the Year

Let's face it, that would be in keeping with the realism and characterisation of it all, but no, the plan was to have a trial storyline. So a Woman, who an entire Street of residents saw try to murder several people, two of whom had been bound and gagged, was to receive a long drawn out defence in court? Yeah! That scenario holds water, doesn't it? Where is the realistic basis for that!? Were we going to have silent film music playing while Maya mimed out her testimony twisting her evil moustache and laughing nefariously aside to the camera?
So which writer do we have to thank for pulling the plug and not subjecting us to more cartoonish shennanigans? The answer to that is none of them. In fact, according to an interview that actress Sasha Behar did with The Sun newspaper the writers loved the character and wanted to do more with her. No, the reason that storyline was dropped was that Jimmi Harkashin who plays Dev was caught indulging in his cocaine habit, was fired from the show and entered rehab. Obviously he was subsequently forgiven and rehired, thankfully after Maya had been long forgotten, barring a random mention from Leanne Battersby some time after. But whereas drugs aren't cool kids, they do save us from terrible soap villainesses!
We'll have more Soap crimes against scriptwriting next week, but for now we have a week to preview and I'm sorry to say we're a bit thin on the ground with only 3 highlights and 2 lowlights, but I'm sure we'll make do!
We kick off our highlights for the week with the return of Smallville on Channel 4. As a show it's far past it's peak in popularity (it's easy to forget, but there was a time when it was THE show to watch, then Kelly Brook happened…), but it retains it's unique charm and premise and remains an entertaining watch, combining dramatic styles well enough to captivate most age groups, bucking the trend of most shows fit into this slot for 14-21 female viewers. Just sit back and enjoy a superhero based franchise that you don't have to visit the cinema for!
Next we have a cultural offering from BBC2, adding to the current boom in shows of this genre in the schedules. Art of Russia is a pretty self explanatory title, and will hopefully expose viewers to a whole new collection of painters from a much less vaunted part of the art world. Shows like this do tend to be perceived as snobbish and inaccessible, but do persevere, because once you get hooked on the paintings and what you get out of them, you really will be opened up to a now sadly neglected area of the arts.
Our final highlight of the week comes in the shape of the beginning of the Six Nations coverage on the BBC. In one of the hardest to call Championships in years (Wales and England in flux, Ireland clinging on to the golden generation as the players get older, France as always unpredictable, Italy rebuilding and Scotland starting from scratch) we should see some great action and some great atmosphere from the crowds. The only downside is the ridiculously over the top Patriotism that is thrown around, something which always leaves a bitter taste (you have no control over where you are born, and cultural boundaries are archaic, why be proud of that?!), but that's a whole other rant for another time.
So that's the good, what about the bad? Well I had to get my detector out, but I've definately found the right shows for this section…
Yes Siree, tripping off the meter this week are two shows similar in genre, and similar in the amount of torture they inflict. Flog It returns for another interminable series, as does Celebrity Cash in the Attic. Two utterly played out shows being mercilessly drained of any life left in them, hosted by unfeeling charisma vacuums who sneer at any collection or unfashionable item and just generally act unpleasantly while making a measly few quid for the owner. Worse than that is the presence of the word Celebrity which means we'll have Z-listers begging for screentime in a desperate attempt to boost their profile. Andy Warhol called, he wants his 15 minutes back.
I have no choice but to leave them to our favourite feline prodigy…
PLAY THEM OFF KEYBOARD CAT!!

That's me for the week, don't forget to check out the rest of out content including some great new articles from Laura and the gang in the Lifestyle section, and keep an eye out for the latest edition of A New Life in the Sun as Sharron updates us on the happenings in Italy! Send any feeback to chris@multimediamouth.com or in the comments section below, and remember to always stay safe!