"A film with Kevin Smith? Well, I could use a good com–what's that now?"
Mallrats was the first Kevin Smith movie I ever viewed. However, it wasn't the regular version of the movie, but the 8AM USA Network edited-for-TV version. And it was horrible. Abominable. I'm pretty sure it's inherit lack of goodness ruined that day for me.
Thankfully, a friend of mine would strike up a conversation about Smith much later down the line. When Mallrats came up, I scoffed but they insisted I see the original, intended-for-viewing audience version. And it wasn't horrible. Also, it turned out the stoner character "Jay" had a completely different voice. Who knew?
However, this is not supposed to be a reflection of my experiences with Kevin Smith movies. This is a look at his latest release, Red State. Smith's "First Horror Movie" which, of course, is debatable if you have seen Cop Out. Sarcasm aside, I will admit the "First Horror Movie" title was an instant red flag due to past experiences with other directors who seemed to be looking to get back on track.
"Look out or them plants'll getcha!"
While I'm admitting things, I might as well say the story behind the movie seemed more interesting to me. Smith had a publicity plan. This began by "auctioning" off the film to himself after the Sundance showing (for a crisp $20 bill). Smith then stated he would use Twitter, his podcasts, a 15-city roadshow tour, word-of-mouth, and a partridge in a pear tree to release the film on his own.
Or in his own words:
"What we want to do is, like, 'Yes, anybody can make a movie…We know that now. We know that because I've made ten, you know what I'm saying? That means anybody can make a f—ing movie. What we aim to prove is that anybody can release a movie now as well. It's not enough to make it and sell it now, I'm sorry."
The reactions to the film have been mixed to both extremes. Anger, perhaps influenced by the director's recent films and other incidents, flooded the internet but were soon countered by an overwelming praise, perhaps influenced by the numerous fans willing to stand by their anti-establishment hero. Here is all I know:
Red State is a not a horror film.
I don't care about one side or another. Internet wars over movies are as effective as poorly done analogies. All I know is that when I clicked "play" I expected a horror film and that isn't what I received.
It may begin like one, but eventually the ADD filmmaking of Kevin Smith takes it in twenty different directions until the generic genre for it could be "Action-Thriller." And even that is stretching it. It's a "Kevin Smith" film, which is something he'll say with pride because a director having your own 'genre' sounds cool (until you realize there are such things as "Uwe Boll" films).
The movie starts with three young men openly discussing how they're going to take a road trip and gangbang a woman to lose their virginity. This includes them having a brief discussion on calling "dibs" for the backdoor action. Personally, this made them as likable as a cupcake covered in soy sauce.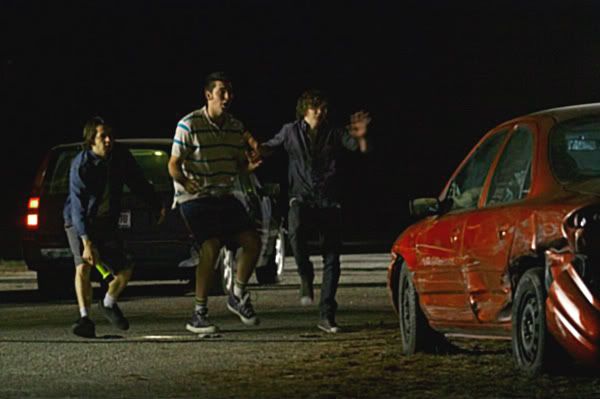 Judging from this picture alone, they appear to be Rhodes Scholars.
They are essentially the pivot point to get us over the bar and into the crazy with Preacher Abin Cooper (Michael Parks) and his wacky family of religious insanity.  You may also know them as "Totally Not the Westboro Church." I suppose I should give a special salute to Smith for name dropping Fred Phelps in an attempt to put his fictional family above their realistic versions. I guess that's one way to try and avoid a lawsuit.
After establishing the Totally-Not-Westboro's, we introduce John Goodman's character (an ATF agent) who immediately works on becoming the movie's real protagonist, a role very fitting for him. So amid the back-and-forth ideas of Smith, working his best to throw dark humor in with a dash of religious thriller, we establish a comparison to the 1993 Waco, Texas incident. At this point let me apologize if my review sounds a little disjointed. It could be because disjointed is the best description for this film's pacing. So, to pick up the pace and remain somewhat readable, let's go for more "bullet form" style:
 Michael Parks is an outstanding actor and plays the homo-hating preacher with a vibe of sensationalism. He's very charismatic.  But his charisma can't carry this film.
 John Goodman is a very entertaining actor and plays his conflicted ATF Agent with a vibe of morose. He's very relatable. But his being relatable can't carry this film.
 Melissa Leo…well, I didn't like her in this, so let's just move on.
 Recognizing Ralph Garmin, a regular on one of Smith's multiple podcasts, hurt some of the movie's tension since I recognized him as "that one guy from Sharktopus.
 Smith has advanced past "Point and Shoot" filmmaking which was a plus.
 Kevin Pollack is around for what amounts to a cameo and having him interact with Goodman was a great idea. To put it in an odd way, it's like an independent professional wrestling promotion hiring two known stars from big name companies (WWE, TNA, former WCW). You don't split up the stars. You put them together because they know what they're doing and can turn in a great performance. The brief interactions between Goodman and Pollack fall under this.
 The ending of this movie was truly the biggest disappointment. It builds up a sudden interesting idea and then sweeps it under the rug for the sake of fitting in some more governmental satire.
So in all, the movie isn't a bad as you've heard. However, it isn't as good either. This film is rather run-of-the-mill. It tries quirky and pulls it off, but nowhere near the level of a Coen Brothers' film. It tries horror but shies away from it the moment it can work in some humor or action-ish plan. It tries plenty of ideas but fails to truly succeed in any of them.
Grade: C+. Worthy of a watch if you're curious, but I am definitely against purchasing it. It's a rental at the very best but, if you can forget about it (which really shouldn't be that hard), finding it one night in the future on a HBO/Showtime style channel is the way to go.
And now, the profanity-laden trailer:
[youtube]http://www.youtube.com/watch?v=uJ1v6oFHefc[/youtube]
Red State is out September 25th in Theatres in the US but is out now on all video-on-demand services via Lionsgate. It is out in the UK on September 30th.