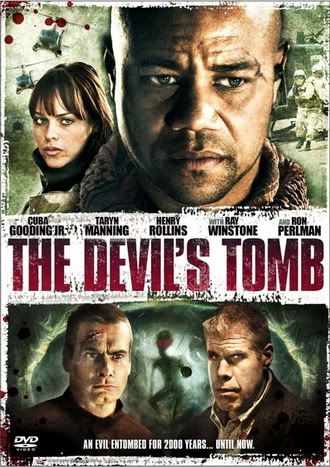 I'm not sure what happened here. I was very excited to track down yet another Cuba Gooding Jr movie to review as I've enjoyed finding out just where his career settled.  But this review…was a nightmare. There are numerous incidents from the creation of this review I would enjoy harping about…but what's the fun in that?
This week, Cuba Gooding Jr appears as the ever-tough leader of a dopey group of "elite" soldiers in The Devil's Tomb. Will the movie be a shocking surprise or is all hell about to break loose?
So, here is the latest review (Sounding as if I recorded it while in said Tomb…):
[youtube]http://www.youtube.com/watch?v=4M8oB6yA7V8[/youtube]
And the Not-So-Disturbingly Cheap Trailer:
[youtube]http://www.youtube.com/watch?v=YUhVr57k7L0[/youtube]
Fate/Karma/My Computer has made it loud and clear that I need to take a break from Cuba, so it'll be a while before another one of his movies are reviewed.
Sidenote: If you have a Direct to DVD movie you would like to suggest for review, please let me know at Twitter.com/SDCain.