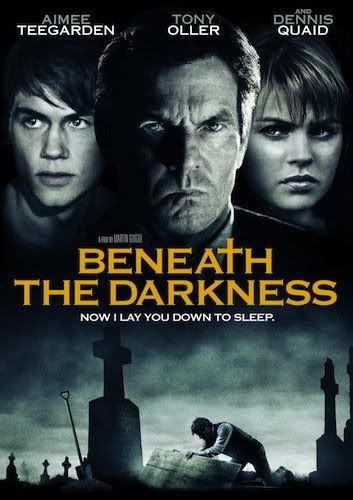 Who is the actor that you don't really discuss with people often…but will usually watch a movie if they're in it?
For me, it's Dennis Quaid. I don't ramble on about him like Danny Trejo or Eric Roberts (pure acting giants in their own league) but hearing his name peaks my interest. Personally, I blame Frequency because that was a spectacular film in my near-sighted eyes.
So, this 'edition' of DC Reviews is Beneath the Darkness a simplistic plotted film that is essentially told in the below posted trailer. Quaid plays the villain and…the other people from the poster play the heroes. Yeah, I'll just stop and get to the point. Here's the review:
[youtube]http://www.youtube.com/watch?v=55tCzThTt20[/youtube]
And now the Not-So-Disturbingly-Cheap trailer:
[youtube]http://www.youtube.com/watch?v=39BP5sQDQnA[/youtube]
Seriously, though, I'd enjoy hearing who is your "quiet favorite" actor. It's time to break the silence! Or not. Whatever. Thanks for reading/watching.