Welcome Ladies and Gents to the TV Week That Will Be Year End Review or TTYTW! Our theme for this special column today was featured on last night's Jools Holland Hootenanny. Gabriela y Rodrigo are just incredible;
[youtube]http://www.youtube.com/watch?v=Y9ZxozEsdgQ[/youtube]
I could list off so very many highlights and probably so many more lowlights from the TV schedules in 2009, but rather than rambling on (yes, changing the habits of a lifetime!) I'm going to do the top 5 from each category. If nothing else, it'll show just how varied the year was!
Kicking off with our highlights and number 5 is a spot of comedy genius…

It may have only had one episode in 2009, the Christmas special, but Outnumbered reminded us just why it's so highly regarded as a comedy and why it will be so sorely missed after it's final series airs in 2010. Often as kids age in family based sitcoms, the veneer wears off, but the semi improvised nature of Andy Hamilton and Guy Jenkin's masterpiece means the younger actors dialogue never feels forced and the situations always retain a grounding in reality, no matter how big the laughs are to be had. The development of the Grandfather's character (now placed in a home he jokingly refers to as 'Colditz', much to his daughter's chagrin) and introduction of his Scottish friend was heartwarming, and makes it very clear the third series will be fresh and free from any repetitiveness.
At number 4 is the show that this year gave us one of the greatest dance troops of all time, as featured last week, and a phenomenon now known as 'Subo'…

Britain's Got Talent had a marquee year with the breakout of Diversity (who saved the show somewhat by being, y'know, good on the Royal Variety after the George Sampson 'rap' debacle), the shocking popularity of the wildly entertaining Stavros Flatley and of course, Susan Boyle herself who with one song was catapulted to superstardom. Next year's auditionees have a lot to live up to.
Number 3 is the funniest show on TV for what? 5 years running now?
[youtube]http://www.youtube.com/watch?v=DtX-4A69mGo[/youtube]
On paper, Harry Hill's TV Burp shouldn't work, but it is OUTSTANDING every week. That clip says it all.
Number 2 very nearly was the best show of the year…

Wuthering Heights was that rarest of things, a high quality drama on ITV. Tom Hardy's Heathcliff was magnificent in his brooding insanity and Coky Giedroyc directed a dark, stormy masterpiece that while outstanding only stood to show the dearth in quality on the channel. They haven't followed it up with one show of decent quality, but they do have at least this jewel in their crown. I was set to name this as the best TV show of the year, until a few weeks ago when it was surpassed by our number 1.
So what is the best show of the year according to me? Well let's find out…

I waxed lyrical about Merlin last week and after much deliberation, decided it had to be ranked as my top show of the year. Superb drama, well used CGI, a great sense of humour and, in this past year, several breakout performances from the young cast. Tremendous.
So then our worst 5 shows of the year…your time is up!
In at number 5 was Phillip Glenister's spectacular fall from grace…

Demons was ITV's latest attempt to have a supernatural show to take on Dr Who. And it failed. MISERABLY! Melodramatic, nonsensical plots and Mr Glenister's very worst attempts at a nondescript accent that noone could decipher. And people still wonder why ITV gets panned?
At 4 we have another ITV offering, this time their latest attempt to do Deal or No Deal…

I'll leave summing this up to Harry Hill…
[youtube]http://www.youtube.com/watch?v=UyLdIXBBrAg[/youtube]
At number 3 is the winner in the highly competitive 'Worst New Sketch Show' category…

Horne and Corden was painfully unfunny (aside from the 'Ghost' parody, which should have bode well for the show). The duo's star was burning very brightly before this show, and while they retain great popularity, this will have dented their chances of getting commisions in the future.
Speaking of unfunny comedies, number 2 is quite a recent addition to that LONG list…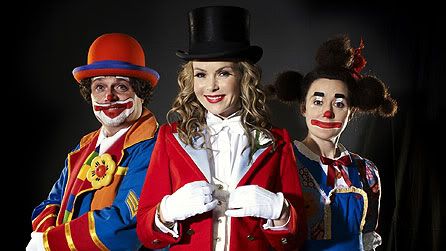 Big Top feels as though the producers took every bad sitcom cliche and RAMMED it together with Amanda Holden and a bunch of clown makeup. This is a truly abysmal offering, on a par with last years horror show Bonekickers.
So we finally reach our number 1 worst show of the year…

Live from Studio Five can stake a solid claim at being the worst show ever conceived. Take one competent presenter (Melinda Messenger), combine with a painfully bland Apprentice contestant (the one who did the horse impression on the phone in the Harry Hill clip earlier in the column) and an ex-footballer not best known for his speaking skills, let them prattle on endlessly about subjects way too serious to be discussed in the manner they are. For example;
Kate Walsh (on Hitler) "They should stop giving him publicity"
Ian Wright (on Anorexia) "They just need to eat more"
Melinda Messenger (discussing any mundane subject) "…I say this as a Mother"
Practically every attempt channels have made to take on the Richard and Judy (who's Watch show finishing with only 8,000 viewers would be a candidate) or Paul O'Grady show format have fallen miserably flat, but none quite do it with the inane verve and bizarre ineptitude of LfSF. If you fancy dying of liver failure, try the Digital Spy drinking game!
So there you have 2009 in a nutshell, but what of next year? What shows catch my eye!?
The final series of Outnumbered we have a long wait for, Winter 2010 it's scheduled for with filming currently underway, but as I mentioned earlier will be well worth waiting for as the recent holiday special just whets the appetite. Besides that it's largely the usual suspects that we have to look forward to. Keep an eye out for the return of TV Burp, Merlin and the debut of Matt Smith as the new Doctor in Dr Who. In the realm of talent shows we also have Britain's Got Talent which will be entertaining despite the likely 'difficult second album syndrome' following the outstanding year 2009 was for the show. X Factor of course will be back and hopefully will produce another Leona year, rather than another Alexandra Bur….sorry, just typing her name makes me drop off. We also have So You Think You Can Dance debuting next week which is actually pretty exciting despite it's quit low key presence so far. The show was a MASSIVE hit in the US and Australia and could well be the BBC's way of finally cracking the talent show market. Also worth keeping a look out for are both America's Got Talent and American Idol (with coverage right here from our own Ruben Pena) which usually attain a much higher level of quality than their UK counterparts. Finally, the last series of The South Bank Show will end it's run on ITV. I really, really hope this gets a good rating to encourage ITV to try and take on a few more highbrow shows.
On the other side of the coin, we have Big Brother and Celebrity Big Brother, both crawling miserably along to their cancellation. If only the execs had listened to the original Producers, then the show would be returning with a bang this year rather than the somewhat pathetic end to the one time juggernaut. The Tudors also gladly comes to an end, as an example of all style and no substance programming. Ashes to Ashes too ends, taking with it a massive case of missed potential, having been losing momentum since it originally spun off Life on Mars. The ending of shows such as these though will open several new scheduling segments which hopefully will mean some exciting new talent getting a chance to shine. Several other shows which need to be put out of their misery are going to dog the schedule too. Last of the Summer Wine is going to get ANOTHER series, which is fairly inexplicable, as is a second series of the revamped Krypton Factor which lost all the unique charm the old series carried. We finish the lowlights for the rest of the year with another, frankly bizarre revamp…Going for Gold returns, this time on Five presented by John Suchet. Why again!?
So that's me for this special edition! We're back to normal next week, send any feedback to chris@multimediamouth.com or in the comments section below. Until then, check out Eoin's predictions for 2010 and remember to always stay safe!