One Word or Less Comic Reviews for June 6th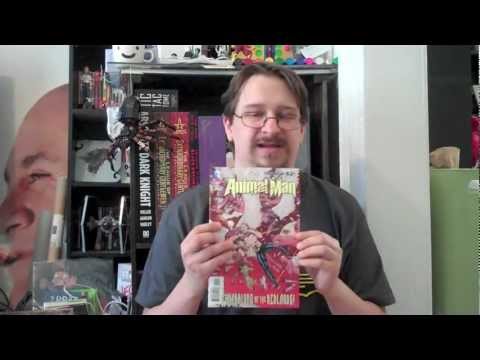 G.I. Combat #2
Avengers vs. X-Men #5
Dial H #2
Fairest #4
Animal Man #10
Stormwatch #10
Avengers Academy #31
Thief of Thieves #5
X-Factor #237
Worlds' Finest #2
Earth 2 #2
Defenders #7
Swamp Thing #10
Secret #2
Action Comics #10
Before Watchmen:  Minutemen #1
Fury MAX #3
The Boys #66
Ultimate Spider-Man #11
Morning Glories #19
Invincible Iron Man #518
-BEFORE WATCHMEN:  TO BUY OR NOT TO BUY?
That is the question, right?  Do you buy into this promising project knowing full well that the man who created these characters is actively against it (or would be if he felt like spending time and money on lawsuits).  Do you give your money to a soulless money grab designed to draw in the suckers with a trusted brand and a $3.99 price tag?  I say when the talent pool involved is this amazing, you almost have to.  I wish I was getting to read Darwyn Cooke doing superhero work again in a way that doesn't piss on Alan Moore, but this is the story he's writing, and controversy aside it's a story I want to read.  Brian Azzarello wrote the most compelling mini-series in DC's Flashpoint, another transparent attempt to separate geeks from their money.  And Straczynski tends to be amazing on any story he writes…for about the first year or two;  with these being minis his books stand to be true comic gems.
Got anything to say? Go ahead and leave a comment!